Learn the difference between Coinbase and Coinbase Pro exchange
With over 300 cryptocurrency exchanges available today, it can be difficult to keep track of what's what. The list of financial products in this space has ballooned to include spot trading, derivatives, binary options, and even prediction betting.
While some exchanges are focusing on becoming truly decentralized (DEX) and offering complex utilities, Coinbase positioned itself as a ramp for newcomers with its user-friendly interface, strict regulatory compliance, and advanced security measures.
The exchange was founded back in 2011 by Brian Armstrong and is credited with playing a big role in today's cryptocurrency adoption levels. Here we discuss the difference between Coinbase and Coinbase Pro.
Coinbase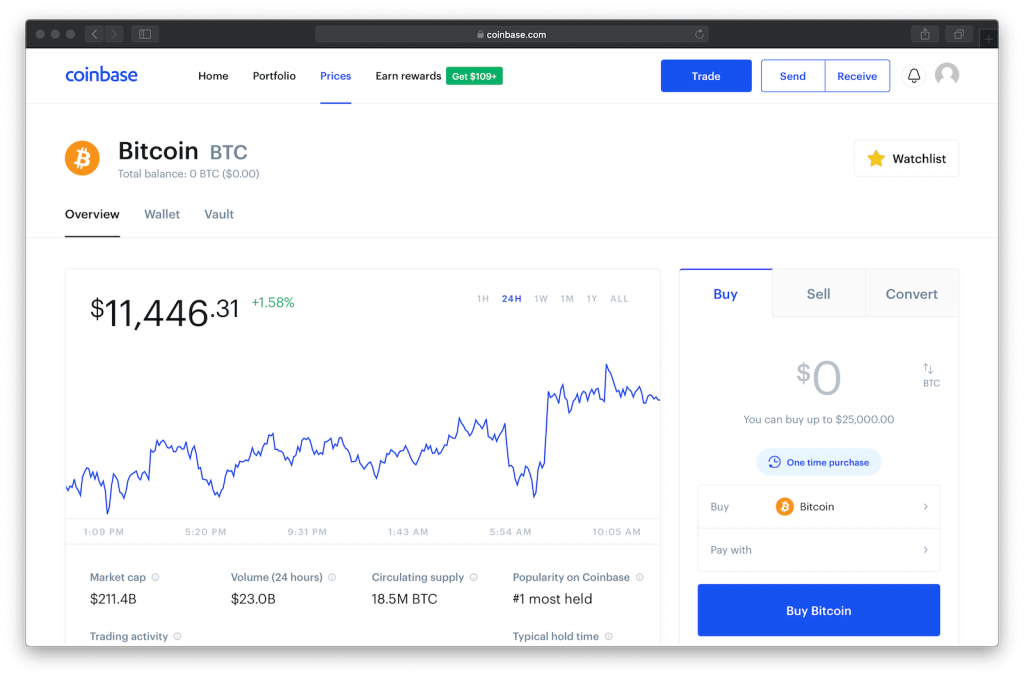 Coinbase is an easy-to-use, regulated online exchange for buying, selling, and storing cryptocurrency. It has more than 13 million users and has traded upwards of $150 billion. However, a simple, understandable interface means that it doesn't provide as much information or as many features as Coinbase Pro. You can either buy or sell as per the offered fees and price.
Coinbase may also track how its users spend their cryptocurrency and has fewer payment options than Coinbase Pro. Also, keep in mind that you don't control your private keys for your cryptocurrency; to simplify storing Bitcoin, Coinbase gives you a password, instead. Another downside with Coinbase is that it doesn't give traders anonymity. Since Coinbase takes 1.49% on transactions made using a bank account, and 3.99% for debit or credit card transactions, the more you trade, the more fees you'll have to pay.
It's better to store your cryptocurrency in a crypto wallet after buying it – but if you have to keep it online, Coinbase is a secure place for it. Keep in mind that Coinbase is banned in some countries and Coinbase Pro in many more. You'll have to check if it's available in the country you're living in before moving forward.
Coinbase Pro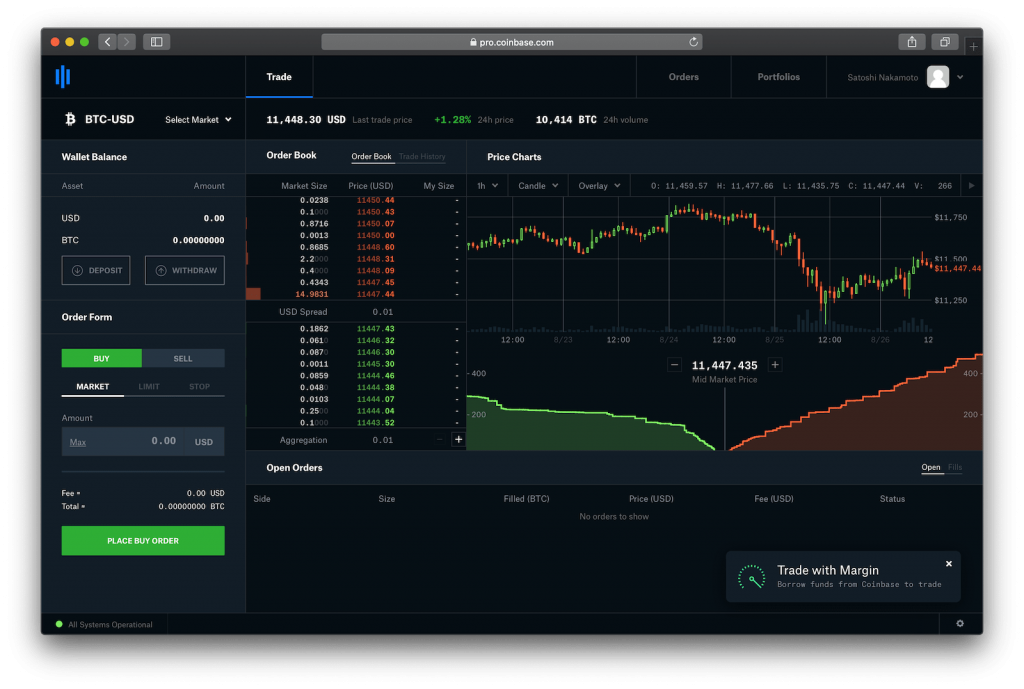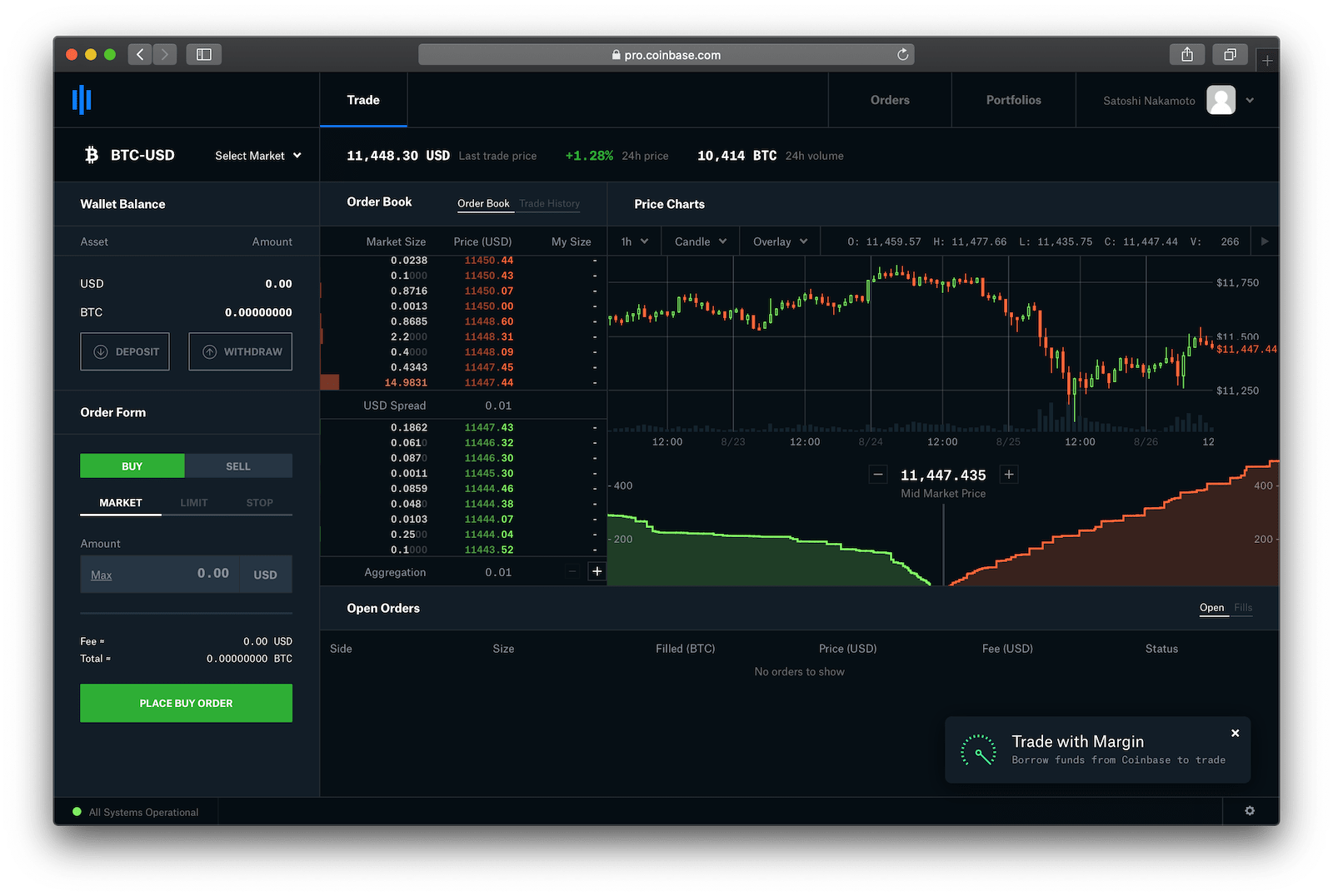 While Coinbase is exceptionally straightforward to use, Coinbase Pro (formerly known as GDAX) is a cryptocurrency exchange geared towards professional and institutional investors. It offers an enormous amount of information (that can be downright overwhelming for novice investors), greater functionality, and charges less than Coinbase. Coinbase Pro is not offered in as many regions of the world as Coinbase is, since it offers more features. It's restricted due to local regulations, available in about 42 countries.
Coinbase Pro offers several options to buy and sell digital currency, such as limit orders, stop orders, and market orders. You can save money on buying and selling fees by using limit orders. This exchange has some of the lowest fees around for US and European investors (0.5% for taker or maker fees for the $0-10K tier). It's even possible to buy digital currency without paying a fee to Coinbase Pro for them.
Maker-Taker Module
Coinbase Pro uses the maker-taker module to determine the trading fees it will charge investors. You'll pay between 0 to 0.5% for each transaction, depending on the number of transactions you made in the month. If you're making a transaction as a maker, you're the one making the offers. So, you're adding to the order book. You'll have to select a buying price less than the selling price in the limit order, so you'll be paying a maker fee for all this. If you're buying or selling to a trade that's already listed in the order book, you'll pay a taker fee.
A simple way to differentiate between maker and taker is that a maker adds liquidity to an order book, while a taker takes away liquidity from the order book. Note that maker fees are lower than taker fees. Both maker and taker fees can be applied to buy or sell orders; you may even get a mix of both.
Trading
Unlike Coinbase, Coinbase Pro allows margin trading of up to 3x on USD pairs. This means you can long or short Bitcoin and other cryptocurrencies through borrowing funds from the exchange. Coinbase Pro also offers more markets and you can even trade Crypto to Crypto pairs such as BTC/ETH.
To begin trading, the investor will need to make a bank transfer or SEPA transfer to Coinbase Pro. Regarding payment methods, bank wire transfers are available to each investor, while bank deposits to Coinbase Pro must be sent by ACH, taking 3-5 working days to come through; SEPA transfers clear within 24 hours. Although investors can deposit any amount of real money to the cryptocurrency exchange, there is a withdrawal limit starting from $10,000 a day. The online platform accepts the US dollar, the British pound, and the euro. Different trading pairs (BTC/ETH, BTC/USD, etc.) are available according to where you live.
APIs
You can obtain Coinbase Pro API keys to make investing or trading easier. APIs are functions that permit the user to link their accounts with other apps such as Crypto Pro portfolio tracker, which allows users to import their data and view portfolio statistics such as asset distribution and gains.
What Coinbase and Coinbase Pro Have in Common
Coinbase owns Coinbase Pro. Neither charges investors for signing up and creating their accounts. Coinbase is more of a brokerage and also serves as a crypto wallet. You can buy or sell digital currency from Coinbase using real (fiat) currency. Coinbase Pro is more of an exchange, letting investors buy and sell from each other.
Coinbase Pro supports a wider range of cryptocurrencies, and you can use your Coinbase information to log in to Coinbase Pro. And if you decide to keep cryptocurrency in your US wallet, the coins are insured up to $250,000 by the FDIC – whether you're on Coinbase or Coinbase Pro. Coinbase aims to become the global leader in helping people convert cryptocurrency into local currency and vice versa.
Check out our Coinbase alternatives articles to see how Coinbase compares with other top exchanges.