A tutorial on how to use Crypto Pro's features and tools to stay on top of the cryptocurrency market.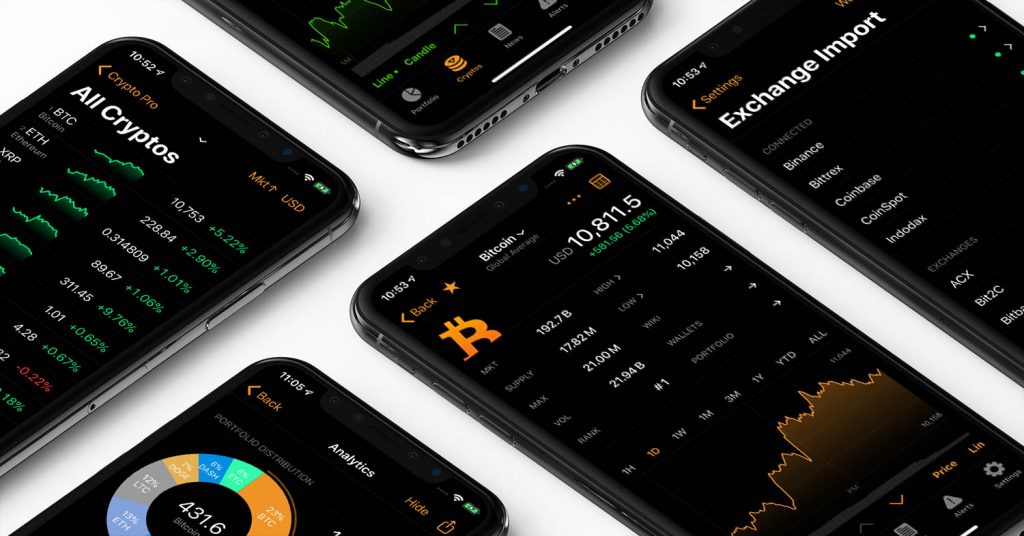 As you may already know, Crypto Pro is an all-in-one cryptocurrency tracking app that allows you to easily keep track of the market, monitor your portfolio, set price alerts, and keep up to date with the latest cryptocurrency news.
All your favorite features can be accessed at just the tap of a screen, and Crypto Pr tracks cryptocurrencies, fiat currencies, and precious metals such as gold, silver, and palladium. On top of all this, you can also use our app to aggregate all your cryptocurrency balances in one place, and check the performance of each individual asset, 24hr gains or losses, as well as other important stats including your portfolio composition.
There's also no need to manually update your portfolio and you can make use of our automatic portfolio sync feature to connect to your wallets and exchanges via API, and have your balances automatically updated. We currently support more than 90 exchanges and over 180 cryptocurrency wallet connections. We also incorporate FaceID and TouchID lock features, iCloud or Dropbox syncing, and an Apple Watch app for people always on the move!
Most importantly, you can use Crypto Pro safe in the knowledge that our tracker does not track you back, and we do not ask for or store any personal information. We prioritize the privacy of all our users and do not track your activities inside the app, and we cannot see or gain access to your portfolio size, viewing habits or favorite coins. All your data is encrypted and stored locally on your phone; and deleting the app deletes all your account data, just how we think it should be.
This all leads to greater peace of mind and Crypto Pro is built by crypto people for crypto people, and in order to help you easily navigate our platform, and get to grips with the wide variety of features we have on offer, we've put together the following guide that makes using Crypto Pro even more straightforward for users of all experience levels.
Getting Started
To get started you just need to head to the Apple App Store (Android coming soon) and download our app to gain access to our full range of features including price charts and alerts, customizable widgets, and wallet and exchange imports.
How to Use Crypto Pro's Portfolio Tracker
After downloading and installing the app, you just need to click on it to get started and you immediately gain access to our price tracking features, and along the bottom of the screen you will see the following tabs:
Portfolio
Cryptos
News
Alerts
Settings
How to Track Cryptocurrency Prices
Tapping on the "Cryptos" tab takes you to our market tracker where you can easily view the current market prices of thousands of cryptocurrencies as well as the total market cap, 24-hour total market volume, and current Bitcoin dominance.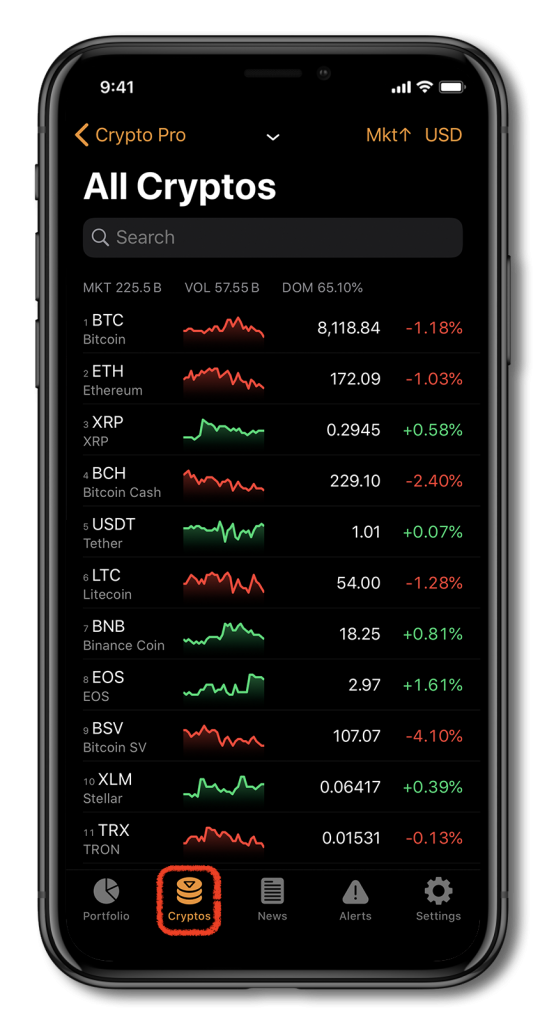 You can also use the search function to quickly locate any cryptocurrency that you want to track.
By tapping on "Mkt ↑" you can select how you would like the coins to be ranked and displayed and you can choose from Price, Name, Percentage Change, Quantity Change, 24h Volume, or Market Cap.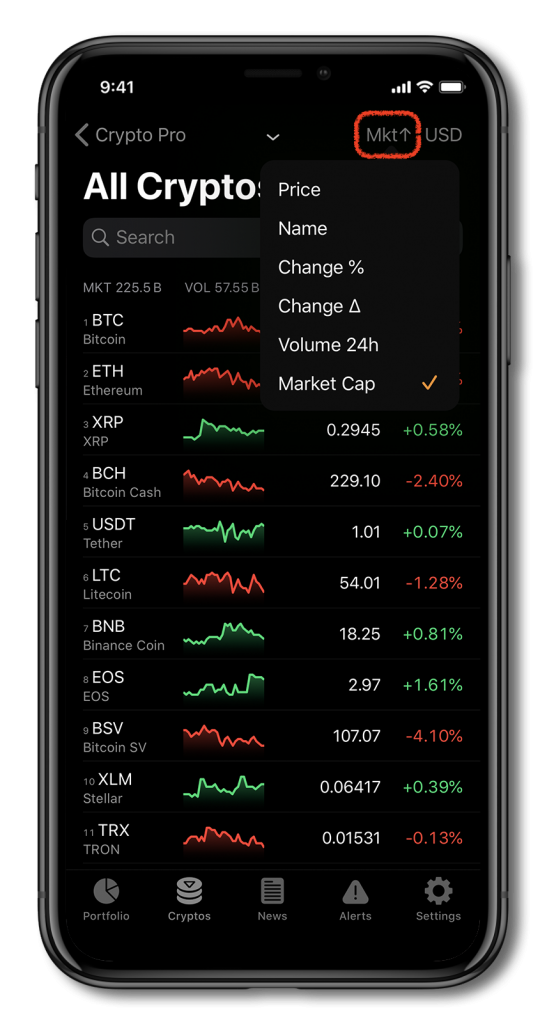 To explore any coin or asset further and gain more information you can simply tap on it and view its performance via a line or candle chart, and track how it has performed over the previous 24 hours all the way to the full duration of its existence! You can also view key metrics such as circulating and max supply and use our wiki entry and calculator to explore the asset even further.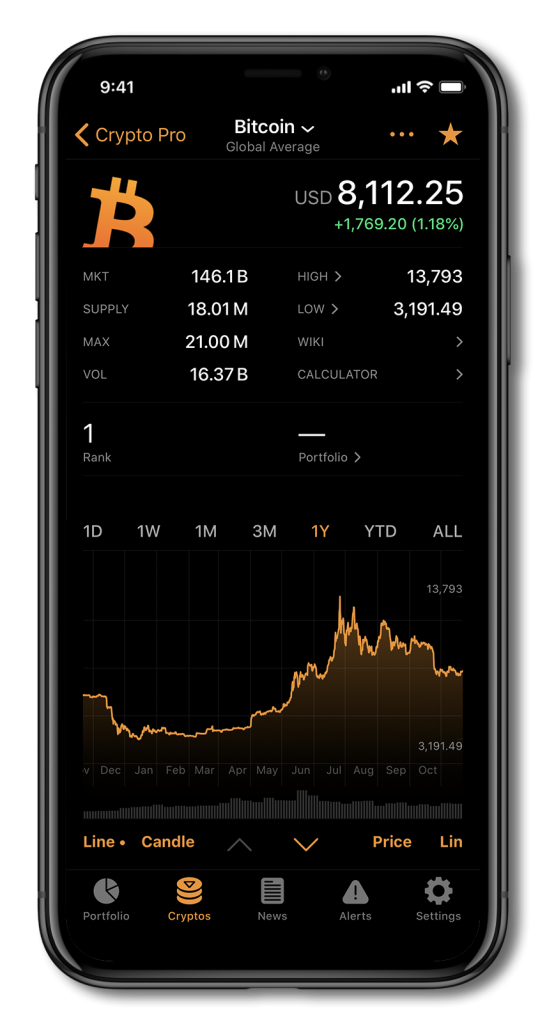 When exploring a particular coin, a number of features can be accessed by tapping on the three dots to the right of the coin's name. By doing this, you can add a Siri shortcut, add a trade, or add an alert for example.
How to Add an Alert
After tapping on the three dots and selecting "Add Alert", you will be given the option to select the price (in your preferred fiat currency) you would like to trigger the alert and the alert will sound once the asset moves above or falls below this price.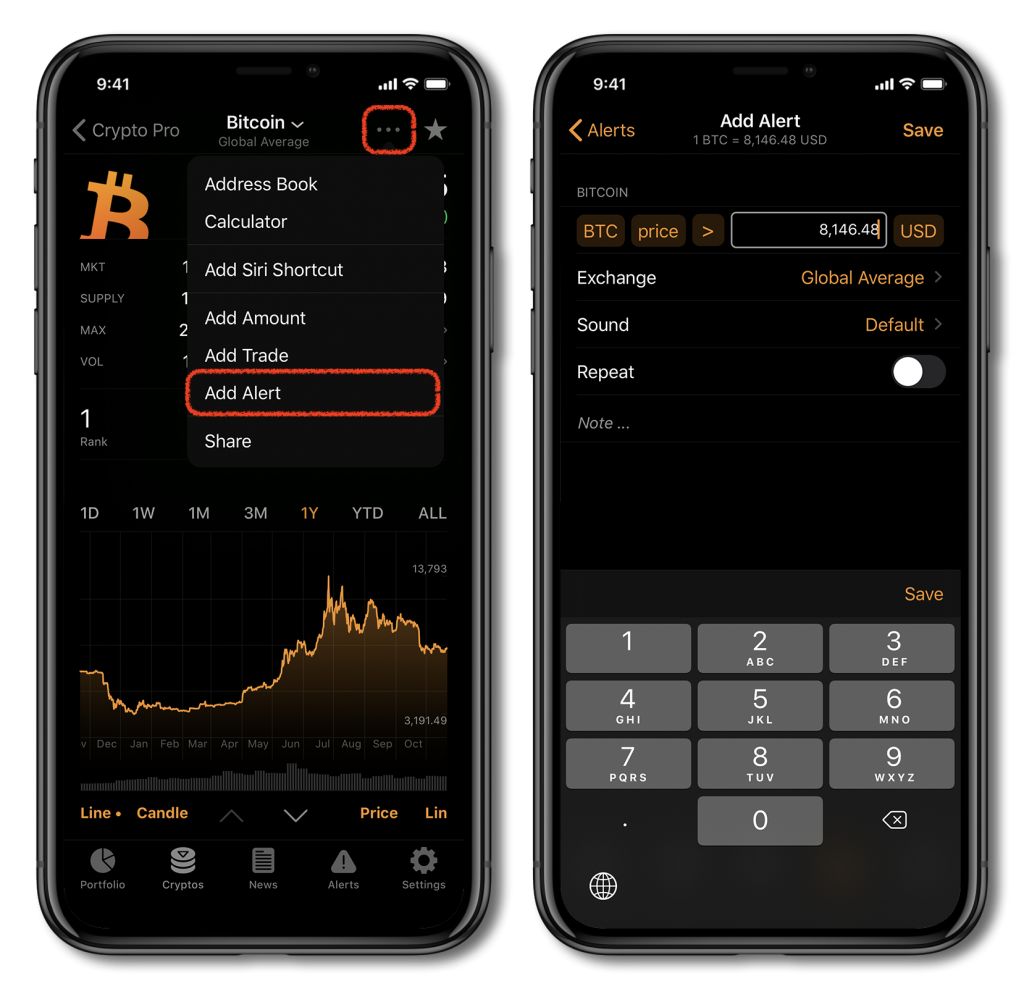 You then choose which exchange price you want to track, and if you just want to be alerted of the general price of the asset you can opt for Global Average before selecting the sound of the alert and its frequency. Once this is done you can click save to finish setting it up.
How to Track Your Favourite Coins
Each asset has a star icon to the right of its name and you can make it one of your favourites by tapping on this icon.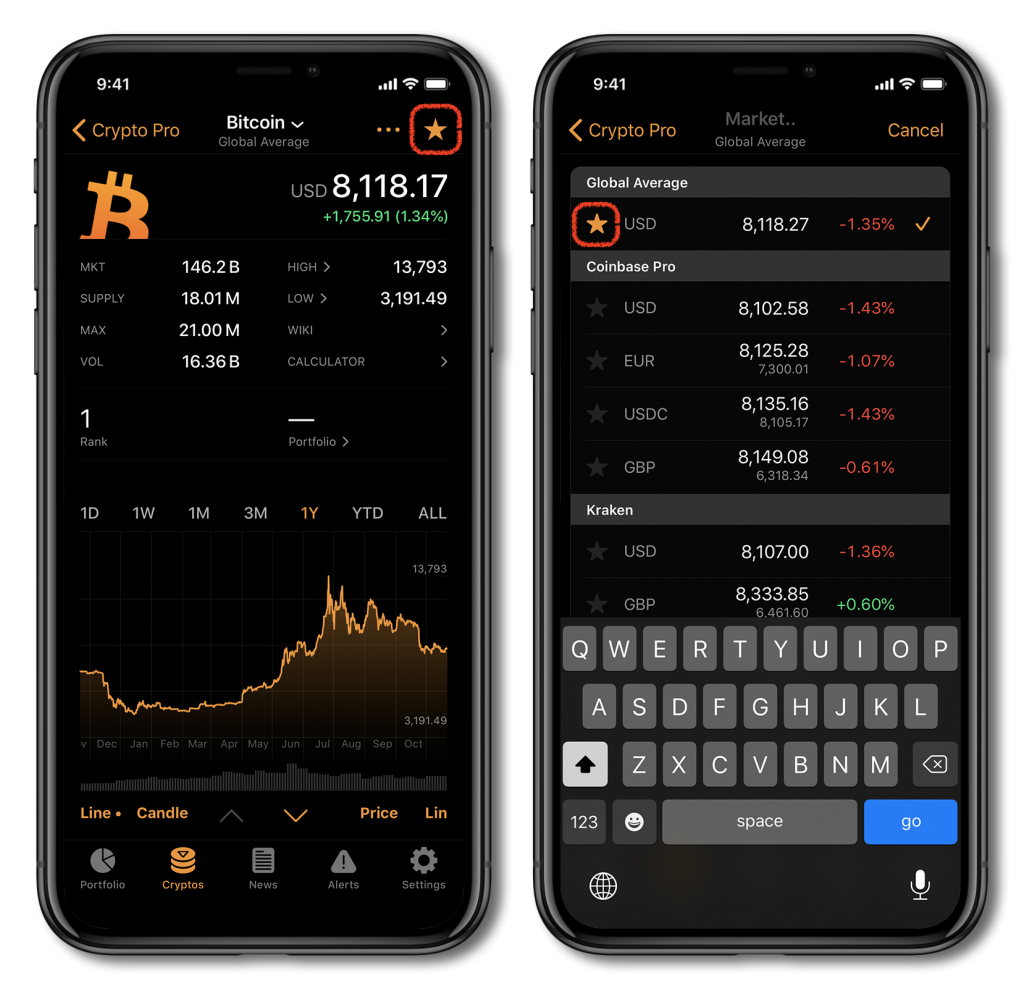 You can also select your favorite exchange and fiat currency price or again opt to follow the Global Average price.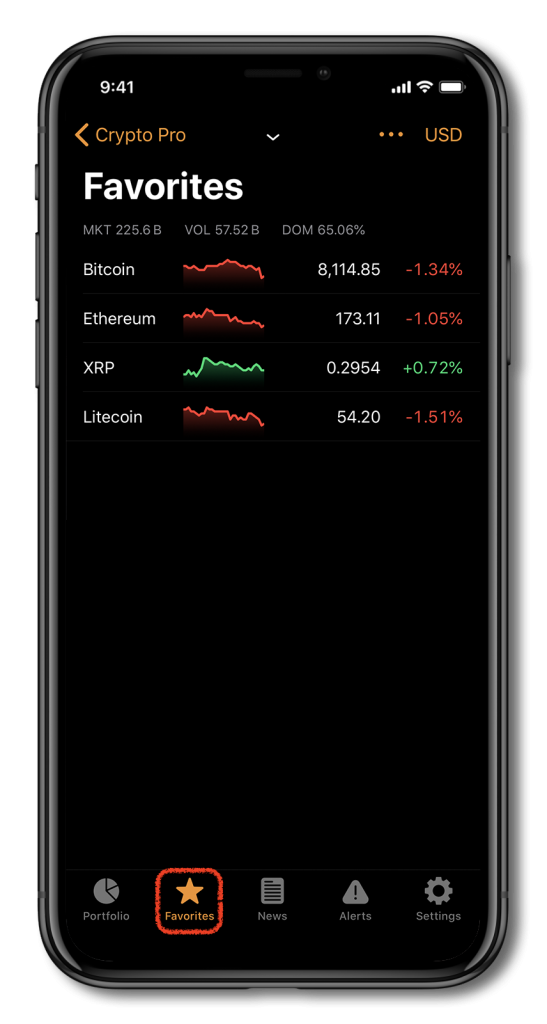 After choosing your favourite assets, you can easily keep track of them via the "Favorites" tab. You can rotate between the "Favorites" tab and "Cryptos" tab by double-tapping on the icon.
How to Manage Your Crypto Portfolio
Firstly, tap on the "Portfolio" tab on the bottom left of the screen to view your current portfolio. To get started or to add a new portfolio simply tapping on the "+" icon at the right of the screen and select "Create New Portfolio".
You can manually add in your trades as you like or opt to import your details from an API or wallet. Our Wallet Import Guide covers the process of importing your wallet and you can also check out our guides that walk you through how to import the API keys from Binance, Coinbase, Coinbase Pro, Kraken, and others.
To fine-tune how Crypto Pro App interacts with your exchange APIs, you can head to the "Settings" tab and select "Exchange Import". From here you can choose how much time passes before the connection is refreshed with the intervals ranging from 15 to 60 minutes.
Once you have set up your portfolios, you can access additional features by tapping on the three dots to the left of the "+" icon, and choose to duplicate, rename, or clear your portfolios as desired, and there is also the option to export your details as a .CSV file.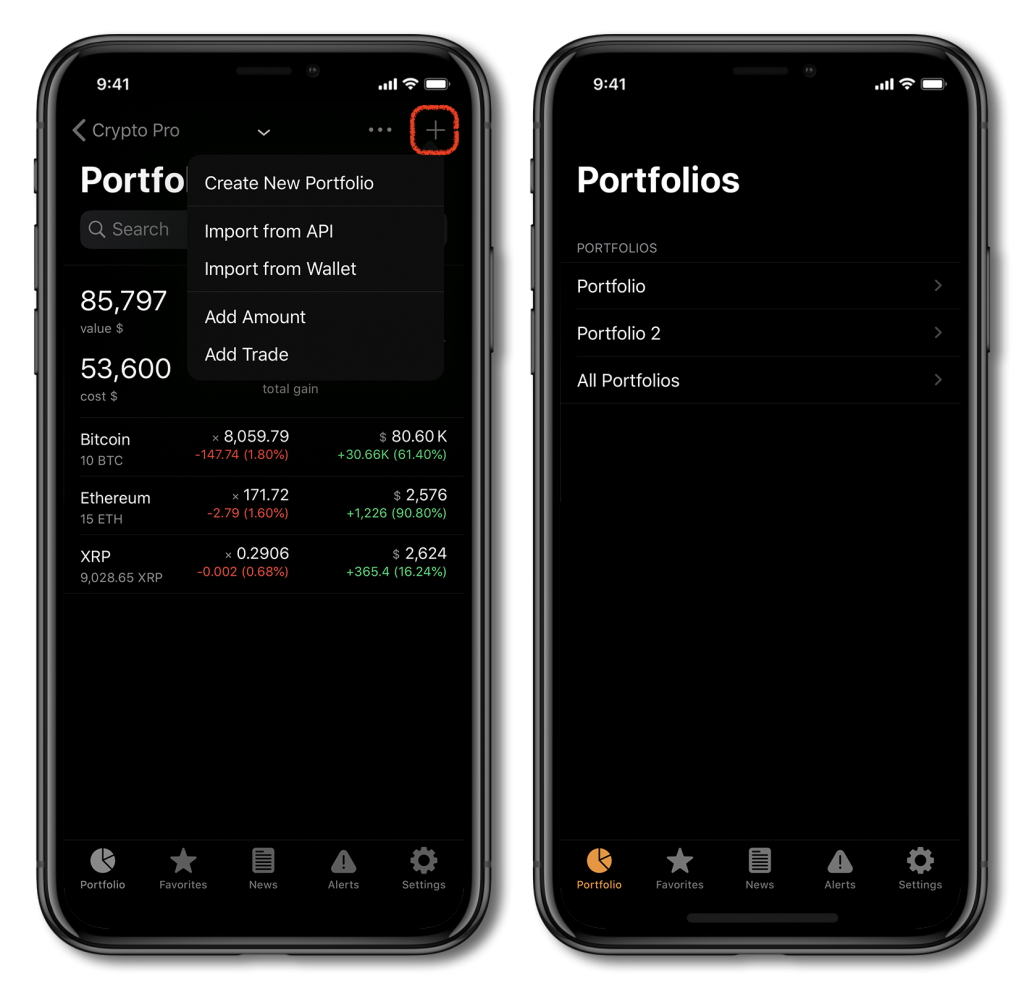 Once they have been created, your portfolios will always be available by tapping on the "Portfolio" tab on the bottom left of the screen and you can navigate between each particular portfolio or choose to view them all at once.
How to Keep up with the Latest Crypto News
By tapping on the "News" tab at the bottom of the screen you can quickly browse the most popular news stories from both the crypto media such as CoinDesk and Coin Telegraph and more traditional financial publications including Forbes, Bloomberg, and Yahoo Finance.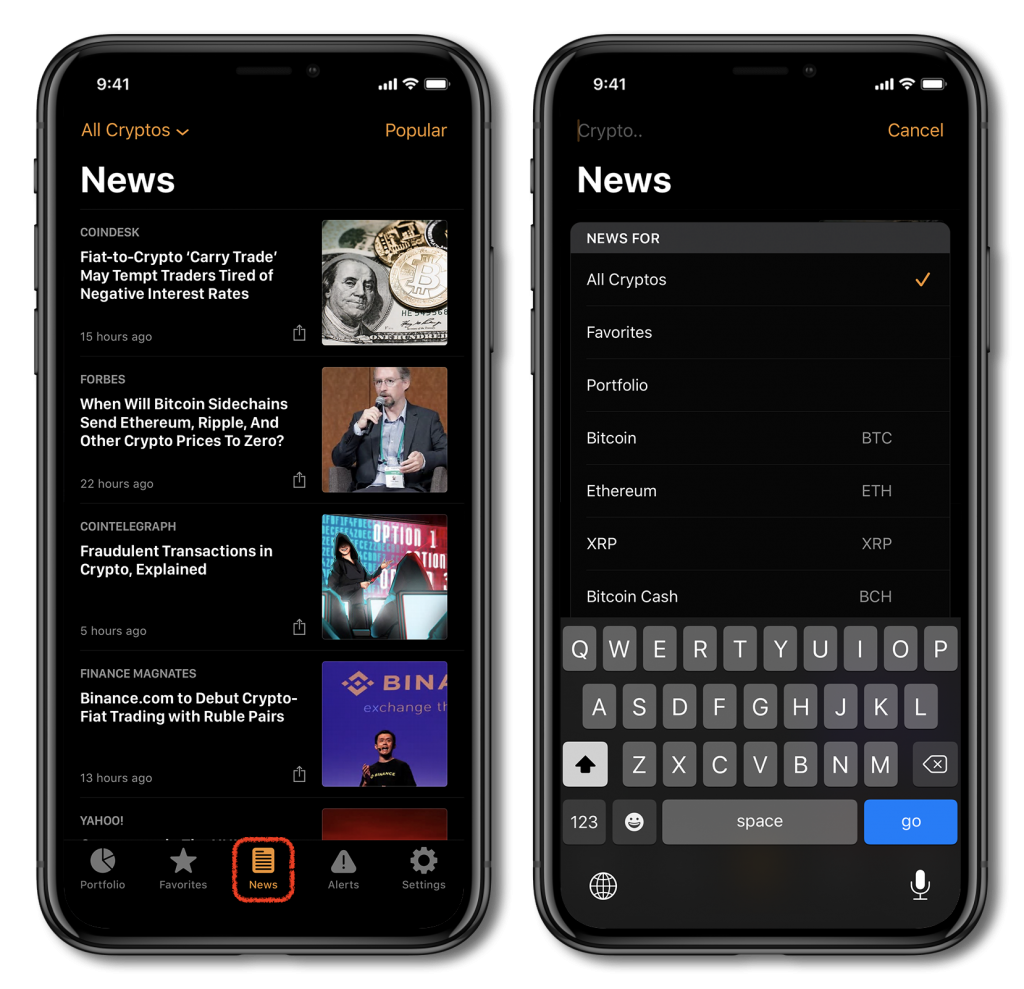 You can browse through the most popular stories, or use the search function to find news related to a wide range of coins that you may be interested in.
You can use the settings menu to make a variety of changes to how Crypto Pro functions. You can tap on any of the following tabs: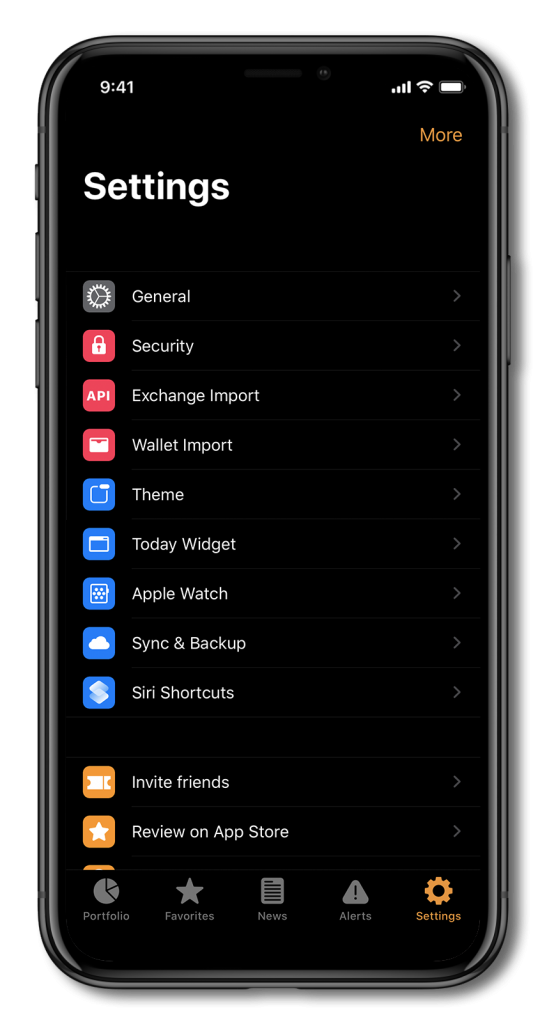 General
Security
Exchange Import
Wallet Import
Theme
Today Widget
Apple Watch
Sync & Backup
Siri Shortcuts
General
Use the "General" tab to customize various aspects of how data is displayed on the app, and you can select your preferred currencies, default language, your home tab, and how your portfolio gains are both measured and displayed.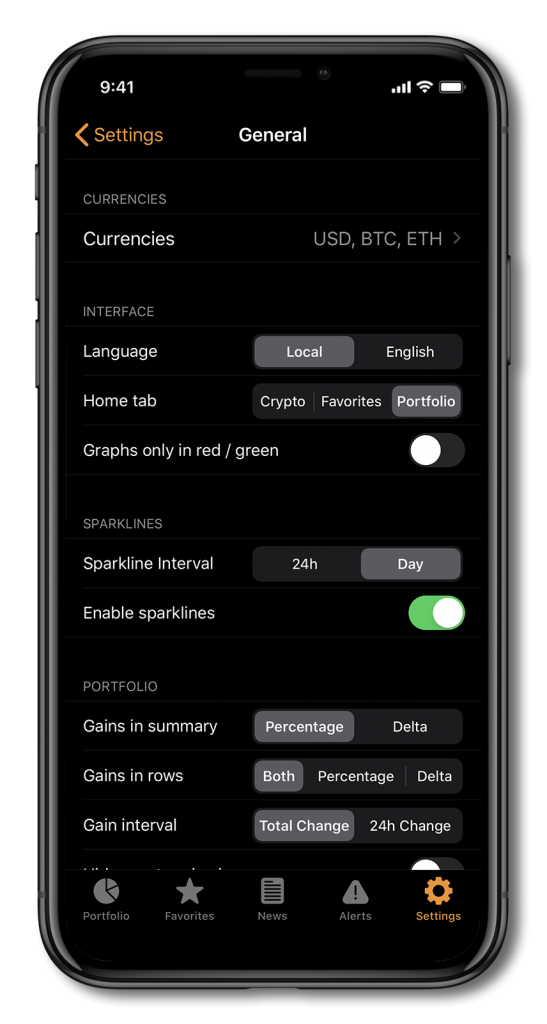 You can also make further changes to how information on our app is displayed and choose to hide any coins that you retain a zero balance in. Display features such as list coin style, time display style, and the sorting limit can also be adjusted and you can also decide just how our app displays news stories.
Security
The "Security" tab allows you to secure your app by setting up FaceID, and to also set how much information is displayed.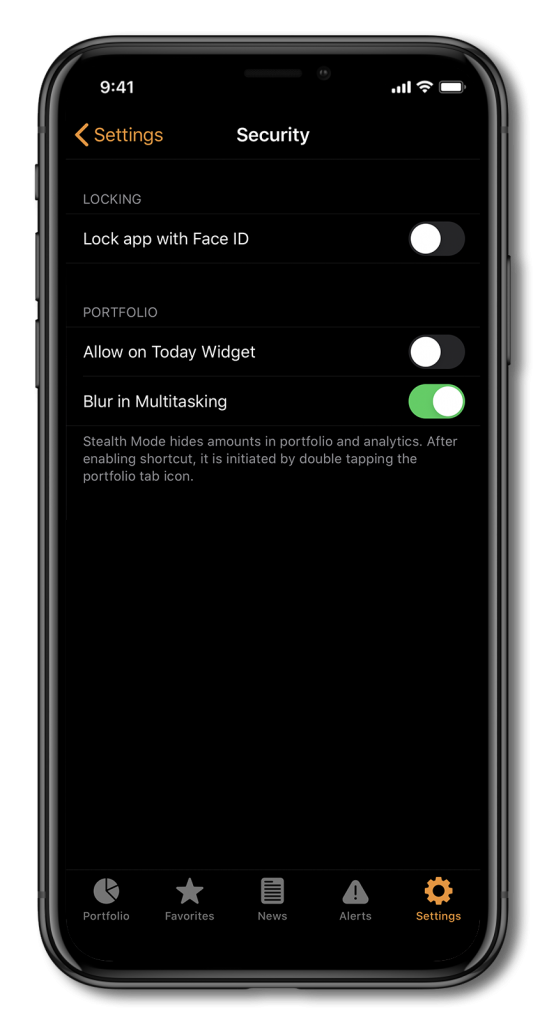 You can hide your portfolio amounts by using the "Stealth" mode which can be initiated by double tapping the portfolio tab icon.
Theme
As expected, you can set the overall look of the app by tapping the "Theme" tab and choosing a light or dark theme, or opting to allow the theme to adjust automatically.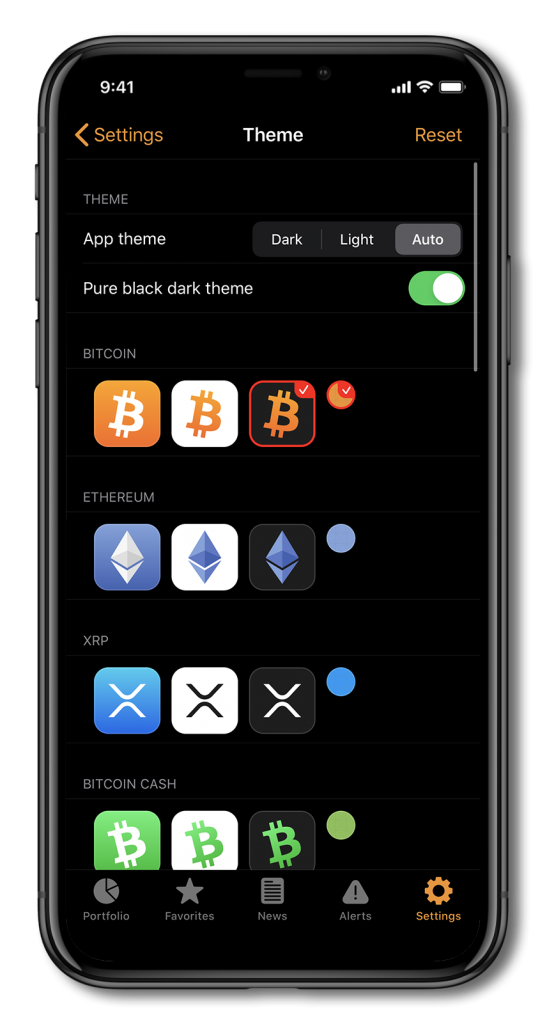 You can also change the app icon to any of your favorite digital assets by choosing from the range of available options.
Apple Watch
Apple watch users can easily set up how the app will display key information by choosing the coins to be displayed and the maximum number of displayed coins under the "Apple Watch" tab. You can also adjust the refresh interval and choose form a range of times between 15 to 60 minutes.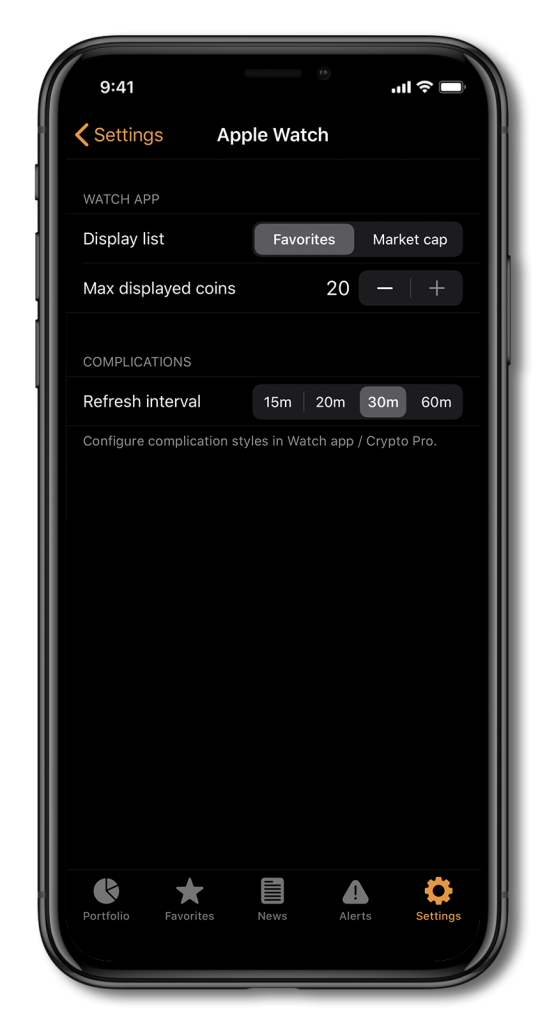 Also, make sure to check out our cryptocurrency Apple Watch guide which explains exactly how to track crypto prices on your Apple watch.
Sync & Backup
To sync your favorites, currencies, APIs keys, and general settings with the iCloud you can click on the "Synch & Backup" tab. From here you can also sync and/or backup your portfolios using either the iCloud or Dropbox cloud service, and when synching with iCloud, you must be logged in with the same Apple ID on all your devices. Make sure to also enable the iCloud Drive in Settings app/Apple ID/iCloud.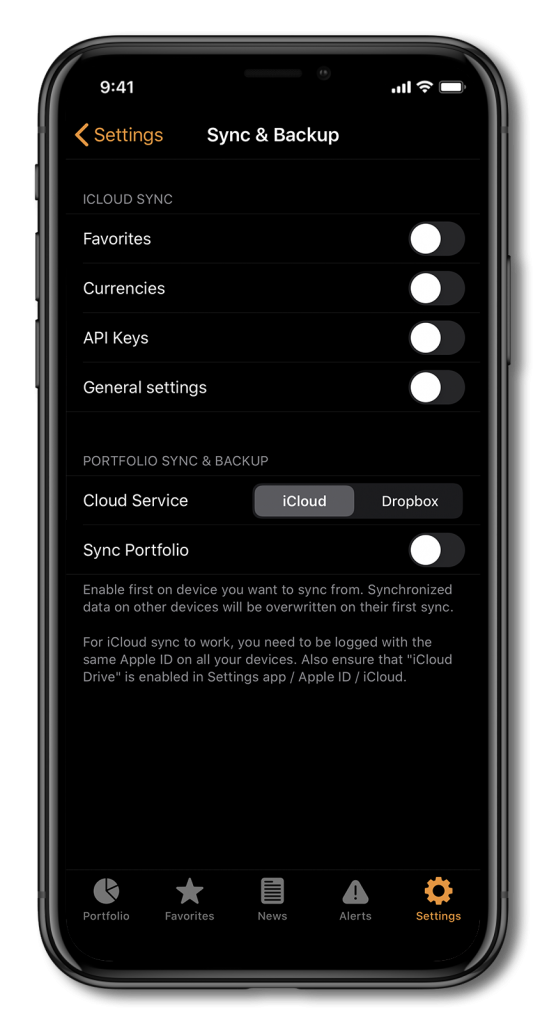 Don't forget that you can also access our referral program via the settings menu, and gain access to a year's premium upgrade by referring three family or friends. Check out our guide on how to get a free upgrade.
Stay in Touch
We like to keep in touch with like-minded people. You can follow us on Twitter, join our Telegram Group, like us on Facebook, and even send us an email at [email protected] if you need assistance or have a suggestion in mind.