A guide on how to use Crypto Pro's Apple Watch complications to show crypto prices.
Apple Watch was first revealed back in 2014 and was Apple's first official wearable product. The smartwatch was a hit amongst consumers and opened a new door for applications to develop extensions that can be configured and displayed as complications. This is where Crypto Pro comes in.
Crypto Pro's Apple Watch App Features
It is not uncommon to see Cryptocurrencies move %10 in less than a day. And with such volatile markets, investors and traders need all the tools they can get their hands in (pun intended) to stay on top of the crypto market.
Crypto Pro's Apple Watch complications enable you to display Bitcoin and more than 5,000 cryptocurrency prices straight on your Apple Watch. You'll also get all the price alerts you set for your coins so you'll never miss a move. Any alert you set on your phone will automatically sync and get triggered on your Apple Watch.
You can access the app by tapping on it in the app menu, or by tapping on any Crypto Pro complication. The app's main page is a compact list. You can either choose to display a list sorted by market cap or display your list of favorite coins you set in the iOS app. Tapping on any coin will display a 24-hour chart and additional details.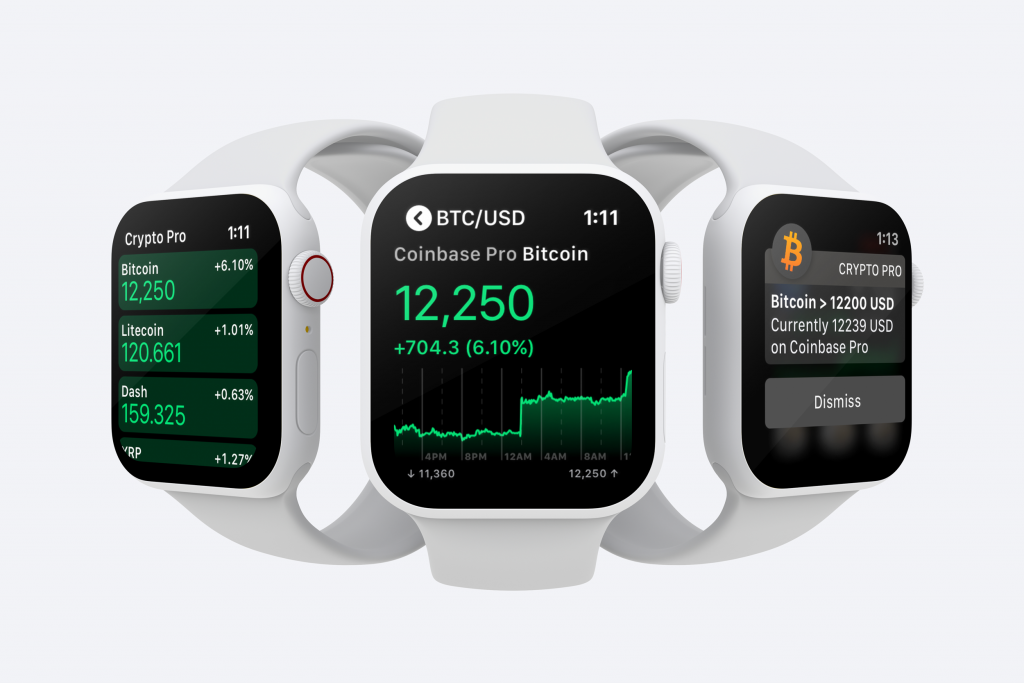 Viewing the Crypto Ticker Complications
The Crypto Pro complication can be displayed on all Watch Faces. Here is a full list:
Activity, Astronomy, Breathe, California, Chronograph, Color, Explorer, Fire and Water, Gradient, Infograph, Infograph Modular, Kaleidoscope, Liquid Metal, Mickey Mouse, Modular, Motion, Numerals, Photos, Pride, Simple, Timelapse, Toy Story, Utility, Vapor, X-Large
Some Watch Faces offer customization. For instance, with the Modular Watch Face, you can choose whether you want to display a large or a small complication, and then further customize what you want to appear in these complications.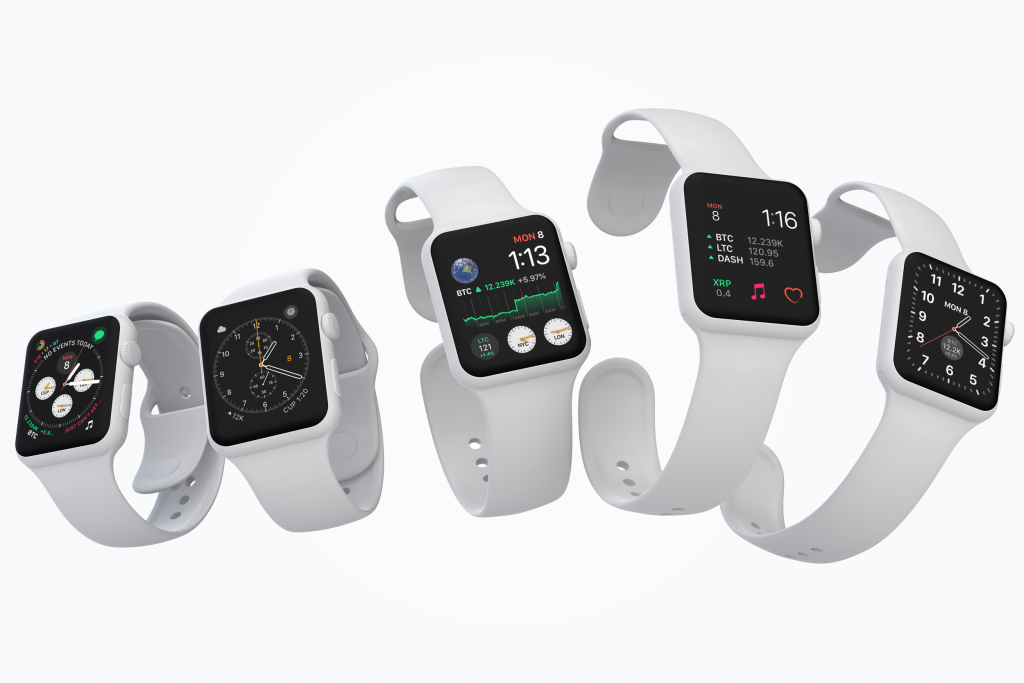 How to Show Crypto Prices on Your Apple Watch (Steps):
Step 1 Download Crypto Pro App on Your iPhone
Go to the app store and search for "Crypto Pro". Tap on our app and install it. If you have automatic Apple Watch Installation enabled, then Crypto Pro will automatically be added to your Apple Watch. If it is not, tap on the Apple Watch app and scroll down to "Available to install" section and tap on Crypto Pro.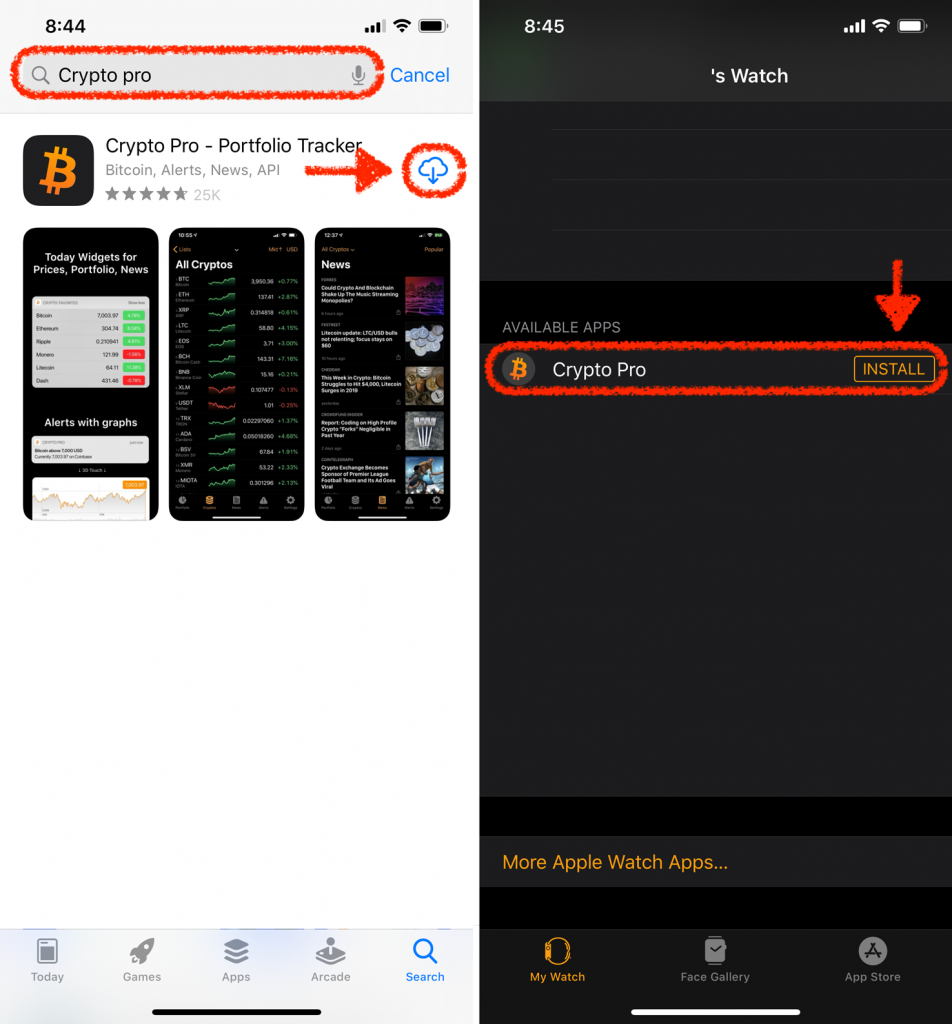 Step 2 Configure Your Apple Watch Complication Settings (Via Apple Watch App)
Open the Apple Watch app on your phone and scroll down and tap on Crypto Pro. Make sure "Show app on Apple Watch" is enabled".
[Optional]
Adjust the following complications settings to your liking:
"Modular Small" and "Modular Large" both refer to the Modular Watch Face complications. You can adjust what each complication shows.
"Extra Large" refers to the Extra Large Watch face and its custom settings.
"Auto adjust units for low prices" automatically removes extra 0's on coin prices so that they are easily readable on your Apple Watch. Example: Coin X has a price of "0.0000020" Satoshis. The app would display it as "20".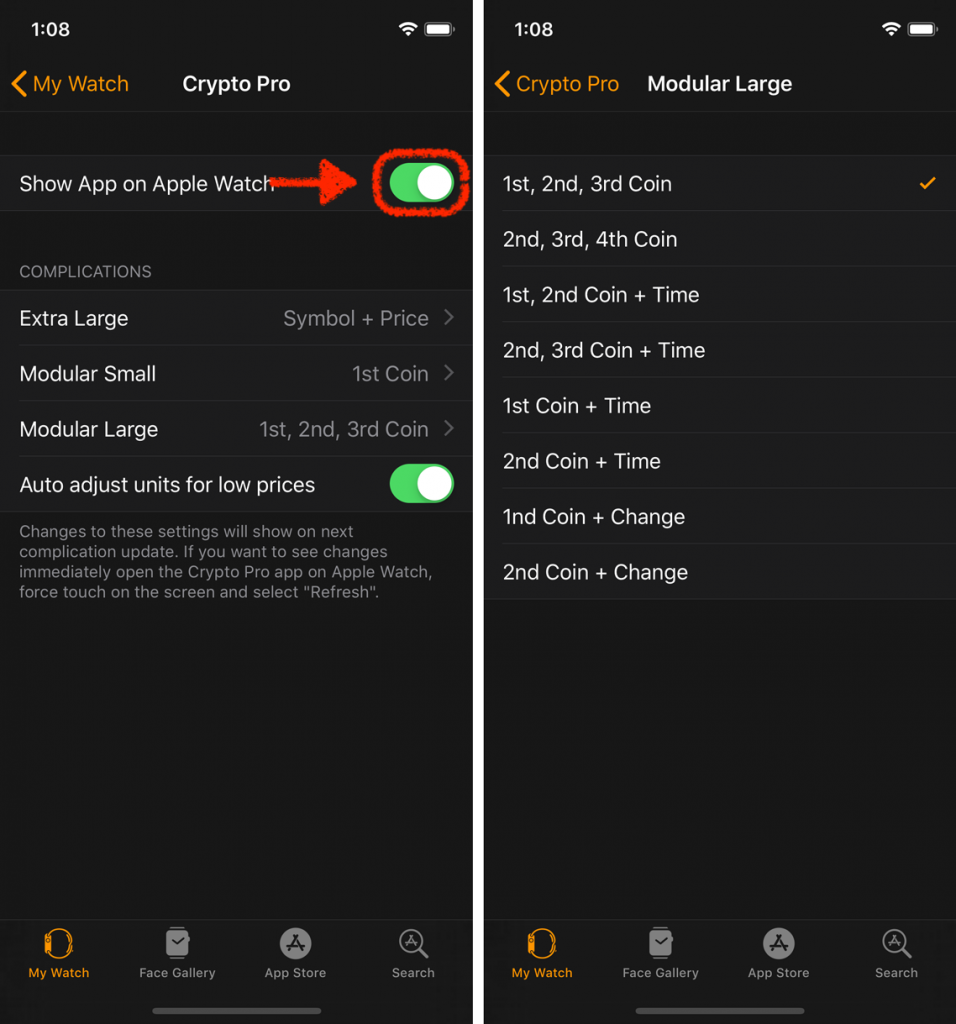 Step 3 Configure Your Apple Watch App Settings (Via Crypto Pro App) [Optional]
Open the Crypto Pro App on your iPhone and head to the "Settings", then tap on "Apple Watch". Select whether you want the Apple Watch App to display coins by market cap or coins in your favorites list. Select how many coins you want to be displayed and the refresh interval.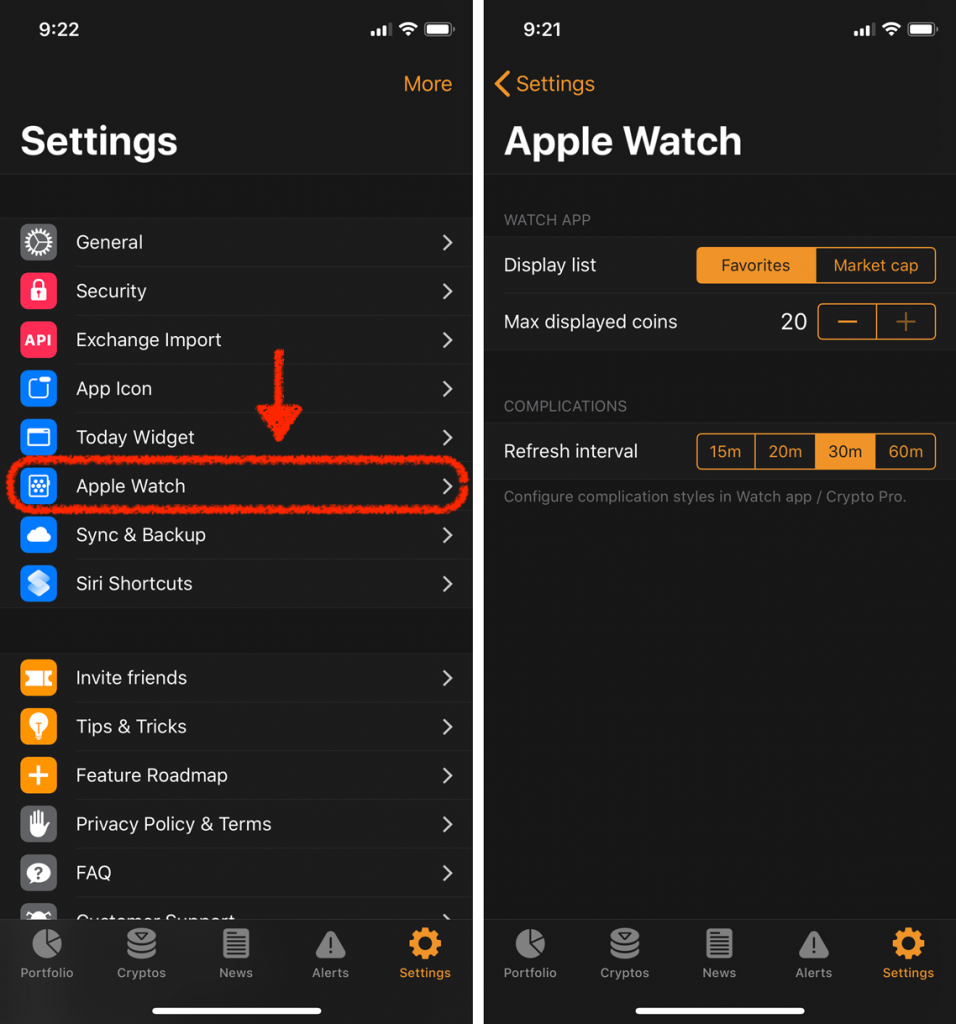 Success!
All you need to do now is add the complication to your favorite Watch Faces. To do so, just long press on your chosen Watch Face, tap on the complication you wish to switch to our Crypto Ticker and scroll down using the side crown until you find Crypto Pro, then press the crown once.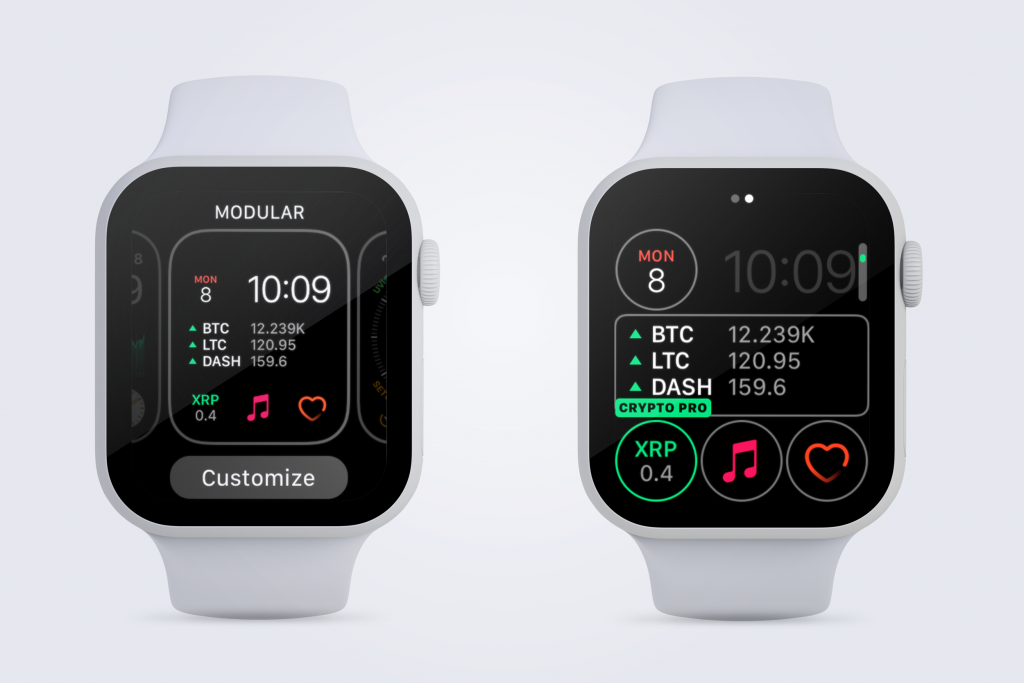 If you have followed these steps successfully, then you should start enjoying Crypto Pro's crypto ticker straight on your Apple Watch.
Stay in Touch
We like to keep in touch with like-minded people. You can follow us on Twitter, join our Telegram Group, like us on Facebook, and even send us an email at [email protected] if you need assistance or have a suggestion in mind.