Top Bitcoin wallets for iOS and iPadOS in 2020
If you look back into the years when cryptocurrency was a nascent topic, everybody believed that Bitcoin was a scam. Well, it was marketed as the 'magic' internet money by some advocates, so there is no surprise why people considered it as complete hokum.
Today, cryptocurrency has become a household name, and Bitcoin is the first thing that people think of when they hear or read terms like blockchain or crypto. People have started to understand the very nature of cryptocurrency and are showing interest in investing in them, especially Bitcoin, because of its value and prominence in the market.
As an investor or a crypto enthusiast, you may have now been familiarized with Bitcoin and its transactions. With the advent of technology, you can even transact using your smartphone. But, as you know, you need Bitcoin wallets to store and transact your Bitcoin.
The idea of accessing Bitcoin from your smartphone seems legit; after all, who wants to invest in digital ledgers and high-end software when you have mobile applications.
With that said, this post is dedicated to the Apple users who have always wanted a quality and highly functional Bitcoin wallet for their iOS devices. Keep on reading as we list some of the best iOS Bitcoin wallets 2020.
1. Jaxx Liberty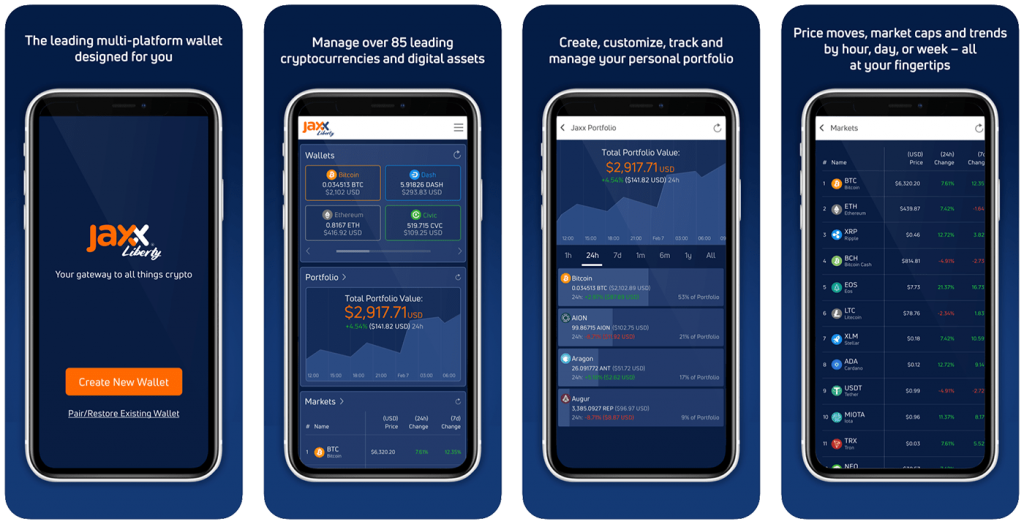 The first in our list of the best Bitcoin wallets for iOS is Jaxx Liberty, which is extremely popular as a multi-currency crypto wallet. This is the best Bitcoin wallet for iPhone users who are new to the world of cryptocurrencies. While it is meant for the beginners, it remains feature-rich for experienced users. The wallet can hold more than 85 different digital assets, and thanks to its gamified user-interface, new users find it an easy and enjoyable experience.
It comes with a host of features that sets it apart from other iOS Bitcoin wallets. For starters, you get to store and transact multiple currencies and not just Bitcoin. If you deal with multiple cryptocurrencies, Jaxx Liberty enables you to keep them all in one place, adding to the convenience factor. We like that the Jaxx Liberty development team is highly involved with the app users. They are open to suggestions and are happy to accept requests.
What makes it one of the best Bitcoin wallets for iOS is its unified dashboard, where you can see all your wallets, and it also gives you a complete picture of all of your holdings. There is a portfolio module that enables you to stay abreast of the latest value of your holdings in real-time.
You will also find a blockchain news viewer integrated within the iOS application that keeps you updated on the breaking news and latest developments in the crypto world. There is built-in support for ShapeShift, using which you can exchange Bitcoin with any other cryptocurrency, and vice-versa, without needing to leave your wallet.
There is an improved security model for Jaxx Liberty, where all your sensitive information will be protected by a strong password that uses AES-256 encryption. Nevertheless, the iOS app may lag a little on some occasions. All in all, it is one of our favorites, and you should definitely try it.
| Pros | Cons |
| --- | --- |
| • Unified dashboard for managing all coins | • May lag or hang a little |
| • Crypto exchange feature | • Could use a design uplift |
| • Supports multiple coins | |
| • Easy to use | |
2. BRD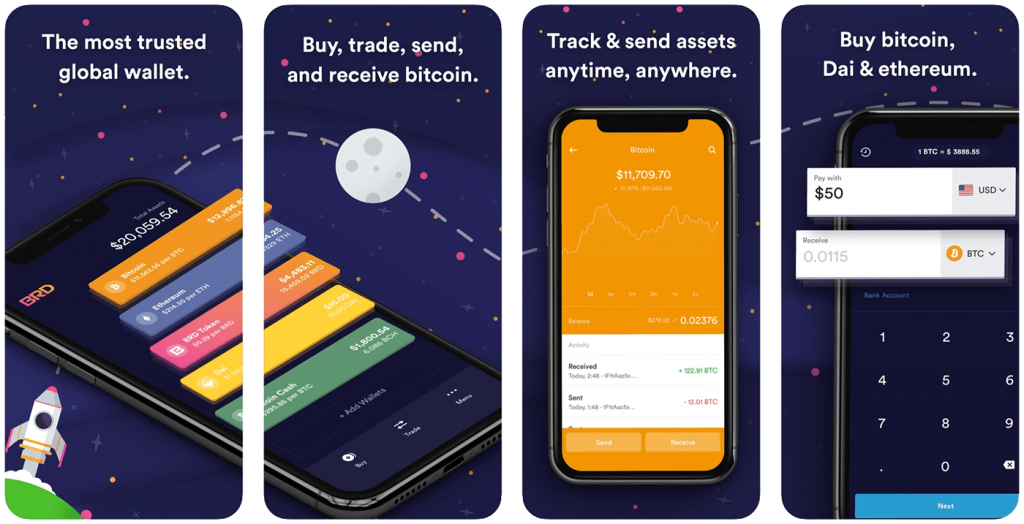 BRD is one of the most popular iOS Bitcoin wallets 2020 that is easy to use. New Bitcoin users may find this mobile wallet extremely useful, particularly when they are looking for a simple multi-currency wallet. Now, when we say multi-currency support, it includes Bitcoin, Ethereum, BRD token, Ripple, Wings, Time, SALT, OmiseGo, among others. Given that it is targeted towards new users, this is actually good because a lot of sophisticated elements are not present.
There is a long list of features that makes the wallet worth your consideration. The open-source nature of BRD makes it one of the best Bitcoin wallets for iOS. Being open-source means that you or anyone can access its source code and look for anything vulnerable or suspicious. In case you find some issues within the source code, you can make change requests and proposals. The developers will look into your proposal, and if they realize something's wrong, it will be improved.
If you value security and want to keep your Bitcoin and personal information secure, then BRD is the best Bitcoin for iPhone in terms of security. The app has an additional layer of security that allows you to create custom PINs for accessing your wallet. On top of that, there is also a recovery phase, which you can use if you forget your password.
The best feature that we liked the most about this iOS wallet is that the app allows fiat currency payments and in-wallet transactions. That is, you don't have to leave your BRD wallet and go to some 3rd-party exchange platform for making purchases. What makes it more interesting from other Bitcoin wallets for iPad is its usability factor. Everything from downloading the app from Apple Store to installing the wallet, and buying coins, are all simple and straightforward. Above all, the BRD wallet is completely free to download and use. Lastly, there is also a credit card purchase facilitated through the app.
Overall, this is one of the best Bitcoin iOS wallets to look for. But, you may have to move to another iOS wallet after some time when you get the hang of Bitcoin transactions. This is because BRD's features are restricted for beginners only, and its customer support is also not that apt as it should be.
| Pros | Cons |
| --- | --- |
| • It is open source | • The features are basic |
| • Highly secure | • Customer support complaints |
| • Perfect for beginners | |
| • Supports multiple currencies | |
3. Coinomi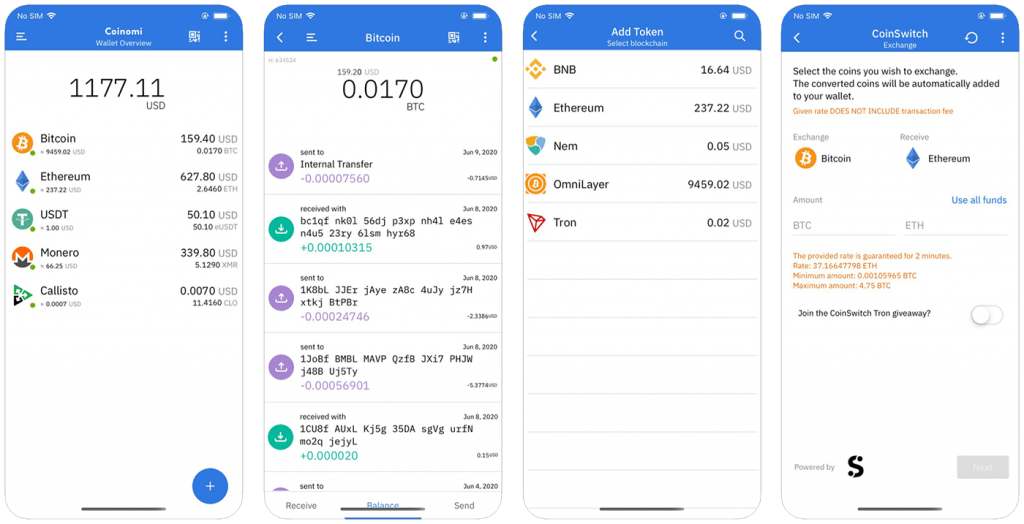 Coinomi is a popular and probably the best Bitcoin wallet for iPhone because it can store over a whopping 500 coins. This wallet for iOS has always kept its focus on privacy. The app is easy and quick to install and allows you to exchange your crypto coins from within the wallet. Despite the questionable allegations of a security bug in the Desktop app back in 2019, Coinomi has maintained a good reputation among investors and crypto enthusiasts
This is a feature-rich Bitcoin wallet meant for advanced users. But beginners and intermediates can also use it to learn the advanced levels. As said, Coinomi has an extensive crypto coin coverage, providing true ownership and native support for over 125 blockchain assets. The wallet also supports over 382 tokens. Since it has ERC20 token standard support, you can add your preferred amount of customized tokens as you like. Coinomi is SegWit-enabled, meaning you can make transactions that are much 'lighter.' You can also set custom or dynamic fees where you can set your own fee to be used or decide a fee that gives you the best value for money at the time.
Since crypto coins are always at the risk of hacks, Coinomi offers private key storage that is kept entirely restricted to your iOS device. Therefore, unless you purposely provide others access to your iOS device, no one can extract the private keys. Apart from security, Coinomi also takes care of the user's privacy. In short, Coinomi excels at privacy as it doesn't collect any personal information from the user. The best thing about it is that the app even goes as far as to hide your IP address.
What we like the most about this iOS Bitcoin wallet is its user-friendliness. You will find clearly visible options, easy navigation, and all these at just a few taps and clicks at most.
Furthermore, it is not just wallets, but Coinomi also offers a wallet exchange feature as well. This means you can exchange one cryptocurrency for another without having to leave your device.
All these features make Coinomi one of the best Bitcoin wallets for iPad. Nevertheless, while the features are easy to understand and utilize, it is common for beginners to get overwhelmed with so many features.
| Pros | Cons |
| --- | --- |
| • Extensive crypto coin coverage | • Not meant for beginners |
| • It is SegWit-enabled | • Multi-currency support complications |
| • Set custom and dynamic fees | |
| • Incredibly user-friendly | |
4. Green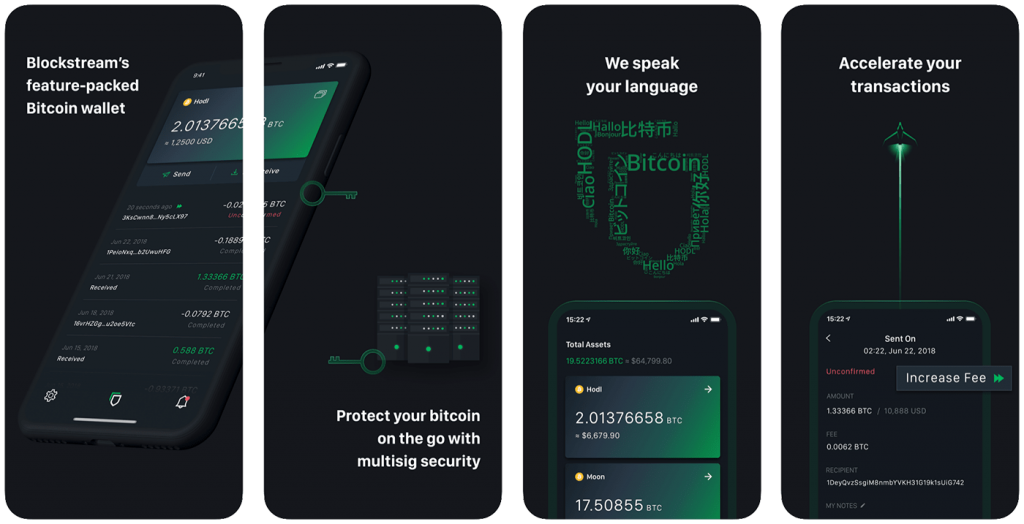 If you ask any experienced individual about what are the most secure iOS Bitcoin wallets in 2020, Green or 'GreenAddress' will definitely be on the top of their list. This wallet is designed and developed with the most advanced features to ensure it is completely secure from theft and cloning, among other probable threats. Highly advanced features don't mean it is not meant for beginners or intermediates. GreenAddress is quite user-friendly, and it really checks all the boxes.
GreenAddress is a hierarchical deterministic, non-custodial, and open source Bitcoin wallet for iOS that enables users to recommend necessary changes in the source code. Its community is strong and knowledgeable, helping users to understand how to reap the many benefits of GreenAddress. Setting up the GreenAddress wallet only takes a few minutes. The app is available for download on the App Store. Upon signing up, you can engage in instant and automatic transactions of Bitcoin.
The talking point of the GreenAddress wallet is its 2FA methods. There are four types of two-factor authentication methods offered by GreenAddress, which you may not find in other wallets. They are SMS, robocall, Google Authenticator, and e-mail. All you have to do is create a PIN and start using your wallet.
The best part is that the GreenAddress wallet is available for free for mobile devices. You will find the app incredibly well-designed and user friendly. It looks more professional than cartoony. Moreover, you will find customer support quite apt and engaging. They will answer all your queries and even help you with the signup process.
You will find GreenAddress to be a highly secure and intuitive Bitcoin wallet for your iPhone or iPad. However, given the fact that it only supports the storage of Bitcoin, this can be a big mood kill for many.
| Pros | Cons |
| --- | --- |
| • Highly secure – 4 types of 2FA methods | • Only stores Bitcoin |
| • Well-designed and user-friendly | • Requires creating an account |
| • Great customer support | |
| • Knowledgeable community of developers | |
5. Abra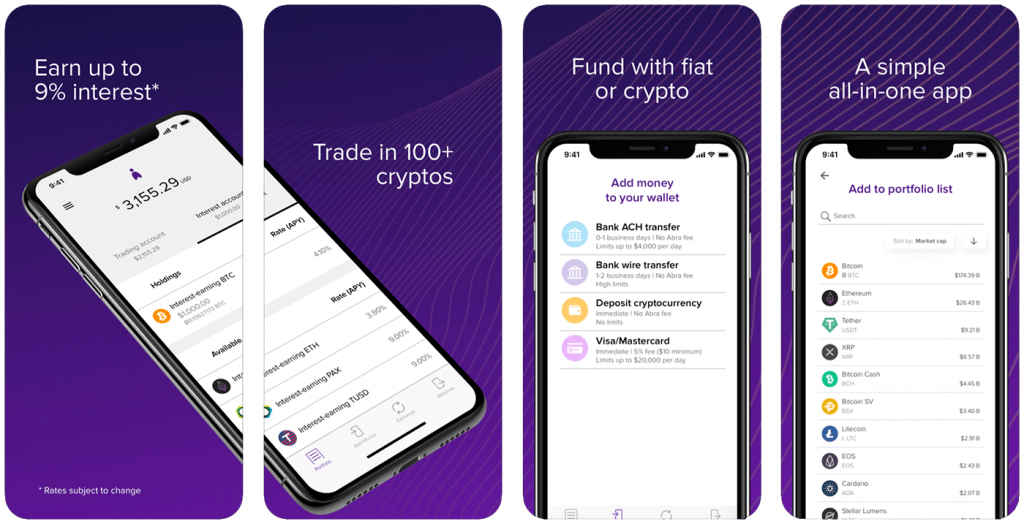 Abra is one of the few Bitcoin wallets for iPad that acts as an all-in-one tool, allowing you to manage your digital assets, fiat currencies, and even invest in traditional assets like ETFs and stocks. In short, this iOS app is meant for those who are not just involved in cryptocurrency but have a wider exposure to all the money markets. It is an HD mobile wallet that is easy to use and provides you with the highest levels of security and privacy options.
The salient features of Abra make it different and stand out from the rest of the wallets. Abra supports over 30 digital assets, including BTC, TRX, XMR, XRP, LTC, ETH, EOS, and BCH, among others. Moreover, the app supports up to 50 fiat currencies such as US Dollar, Australian Dollar, Euro, British Pound, Hong Kong Dollar, SGD, and Japanese Yen, to name a few. Most importantly, the wallet app is free to use and can be downloaded easily from Apple App Store.
Its ease of use is another thing that makes it one of the best Bitcoin wallets for iOS. Abra comes with some great features that are accessible and convenient to both professionals and beginners alike. If you are a beginner, the menu and UI are quite straightforward, and you will not find it hard to navigate. And if you want to purchase more Bitcoin and save it to the wallet, you can do it simply with your credit card or debit card.
The primary reason why we personally like this wallet is that it provides users with anonymity and privacy. You can rest assured that your transactions remain anonymous. While it will need you to provide your personal information like mobile number, e-mail address, and name, everything will remain discrete. The wallet is designed based on the non-custodial HD architecture, making it more secure than the available alternatives. Abra utilizes the recovery seed phrase that is not stored over the internet but the device only. This makes the app even more secure.
Abra gives you the ability to do what you want to do with your hard-earned money. You can access all your funds from a single dashboard. Whether it is a cryptocurrency, fiat currency, or stocks, you have the freedom to monitor your accounts with ease using Abra.
Finally, there are some fees and costs associated with deposits and withdrawals at Abra. The fee you have to pay will depend on the type of transaction method you have used (bank transfer, cash, credit card/debit card, etc.).
You will find Abra to be a highly functional and interactive Bitcoin wallet for iOS. However, the fact that it requires you to provide your personal information to use the wallet may not be liked by many crypto users.
| Pros | Cons |
| --- | --- |
| • Supports over 30 digital assets | • Requires personal information |
| • Straightforward menu and UI | • Looks more like a trading platform |
| • Provides anonymity and privacy | |
| • Can fund your wallet with credit card | |
6. Edge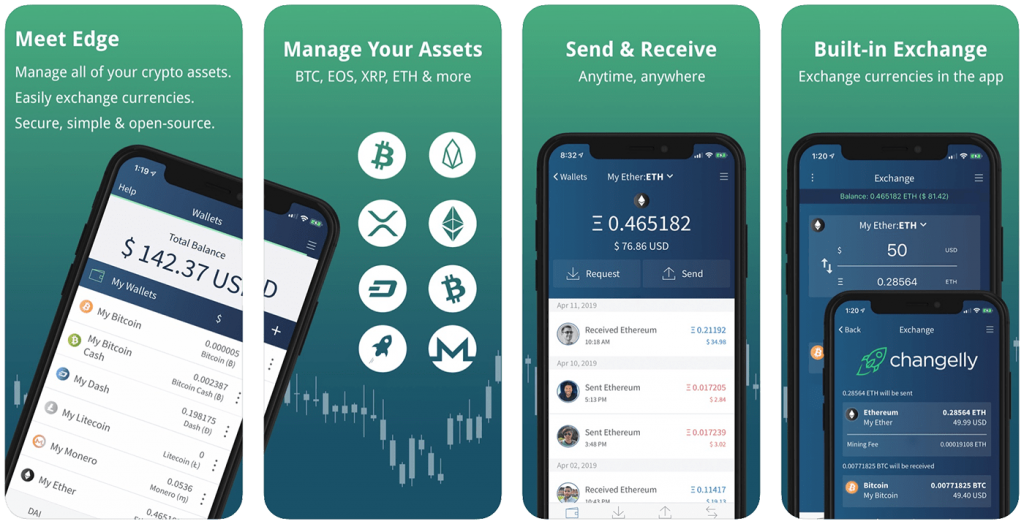 Edge is a feature-rich Bitcoin wallet that is primarily focused on the ease of use. It is strictly designed for mobile use with features that mobile users may find handy. If you prefer your smartphone for doing everything, like making monetary transactions, accessing social media channels, and more, then you will love this Bitcoin wallet app, which is also available for iOS users. It is beautifully designed and has a quality interface, which won't confuse you, even if you are a beginner.
Since the developers solely focused on mobile use, for mobile users, the features offered by Edge wallet are unique. First things first, Edge supports more cryptocurrencies than just Bitcoin. Its multi-currency support functionality allows you to keep track of all your cryptos under a single dashboard. The company is constantly working hard and innovating to support more coins. So, in the near future, you may see tons of coins being supported by Edge.
This mobile Bitcoin wallet boasts innovative security features that may be as efficient and secure as a hardware wallet. The never-seen-before security features are what makes Edge one of the best Bitcoin wallets for iOS. It acts as a multi-purpose wallet where you can store not just cryptocurrencies but also exchange crypto assets. That is, if you feel like the Bitcoin price is about to drop, you can simply exchange it for another cryptocurrency that you find stable and profiting.
Its intuitive and beautifully designed UI allows you to perform several tasks. To start with, you can create and use multiple wallets, which you can easily access from the primary dashboard. This enables you to manage and monitor your portfolio. And to bring smoothness to your eyes, the Edge wallet uses a very-well thought color scheme.
Since it is open-source, as a user or someone with experience in the industry, you can give your recommendations or requests regarding any changes that should be made to the mobile application. The wallet also provides a list of merchants in your area that accepts cryptocurrency. So, you can directly pay using your Edge wallet after making a purchase. Its in-app features include spend cryptocurrencies, buy cryptocurrencies, and exchange cryptocurrencies.
This is one is best for those who are looking for a simple and easy way to use a crypto wallet whenever they want, and everywhere they go. While there aren't any cons as such, it is a dedicated mobile wallet, and for the best experience, it should be accessed via iPhone or iPad and not desktop.
| Pros | Cons |
| --- | --- |
| • Multi-currency support | • Can be confusing sometimes |
| • A dedicated mobile wallet | • The in-app features could be improved |
| • Innovative security features | |
| • Intuitive and beautifully designed UI | |
How to Choose a Bitcoin iOS Wallet
If you are choosing a Bitcoin wallet randomly without any considerations, you may need to reconsider your approach. In order to find the best Bitcoin wallet for you, there are some factors that you need to consider. Whether you are a beginner or an advanced user who knows everything about cryptocurrency, one should judge an iOS Bitcoin wallet based on the following criteria.
Ease of use: beautifully designed yet interactive UI
Developer community: the wallet should boast an active development community for maintenance
Security and backup features: seed backup keys and pin codes
Control private key: a Bitcoin wallet where you own and control all your keys
HD wallet: a Bitcoin wallet that generates new addresses automatically
Final Words
Users should always do their own research and figure out what they actually need in an iOS Bitcoin wallet. Nevertheless, the wallets mentioned above are considered the best and can save you some time on the research. With more and more users preferring mobile wallets over hardware and desktops, there will be a surge in the development of Bitcoin wallets for smartphones and tablets.