Tutorial on Coinbase fees and how you can avoid them
Coinbase acts as a broker with whom you can buy digital currencies with fiat or other digital currencies. It charges a fee for every transaction, so an investor who does a lot of trading will see a significant amount going towards fees. There are also fees that depend on the payment method you're using, and where you're based.
The exchange is known to charge some of the highest fees in the cryptocurrency market. So, what is Coinbase's fee structure look like? You'll have to go through the terms of service with a fine-toothed comb, including the fine print. They have buying, selling, variable, and fixed fees. Let's have a look at these fees.
Deposit Fees
Users can choose to either purchase cryptocurrency directly (will incur higher fees), or deposit funds to Coinbase first, then make a purchase. You can fund your Coinbase account with ACH Transfer or via wire transfer.
| Deposit Method | Fee |
| --- | --- |
| ACH Transfer | Free |
| Wire Transfer | $10 ($25 outgoing) |
Trading Fees
Fees are the main source of revenue for most exchanges and Coinbase is no exception. You should expect to pay fees when purchasing cryptocurrency, as well as when converting from one crypto to another.
The base rate fee depends on the payment method used to make the purchase, with debit card transactions costing a staggering 3.99%. It's important to note that cryptocurrencies purchased with a debit card become instantly available.
| Purchase Payment Method | Conversion Fee |
| --- | --- |
| US Bank Account | 1.49% |
| Coinbase USD Wallet | 1.49% |
| Debit Card | 3.99% |
Buying and Selling
If you're buying or selling digital currency through Coinbase, a 0.50% spread fee will automatically be added to the transaction on top of the base rate fees listed above. Coinbase does state that the spread may be higher or lower depending on market fluctuations for that asset on Coinbase Pro from the time it quoted a price to the time the order was executed.
For example, if you're wanting to buy $1,000 through your bank account, Coinbase will deduct $5-$10 from the order on top of the 1.49% fee, so you'll end up with approximately $985 worth of virtual currency; keep in mind that it'll also take time to clear your bank.
Similarly, if you're selling cryptocurrency on Coinbase, say $1,000, that amount will be deducted from the total on your Coinbase account.
Converting Cryptocurrency
Converting from one cryptocurrency to another incurs a spread fee of up to 2.00%. Coinbase will determine the consumer exchange rate for the transaction by adding a margin (or spread) to Coinbase Pro's market exchange rate. There are no additional Coinbase Fee for converting cryptocurrencies. Note for US customers: if a cryptocurrency conversion begins or ends with the USD, it'll be taken to buy or sell cryptocurrency and charged a spread and the Coinbase Fee.
You pay more in fees if using a debit or credit card, but the upside is that you immediately receive the virtual currency. Don't worry – the confirmation screen will show the total, the fee, and how much you're ending up buying or selling.
Small Transaction Fees
There are no variable fees for small transactions ($200 or less) if it's made through your linked bank account or from your USD crypto wallet. Once you cross the $200 threshold, you'll be subject to the 1.49% variable transaction fee.
| Buy/Sell | Fee |
| --- | --- |
| x < $10.99 | $0.99 |
| $10 < x < $25 | $1.49 |
| $25 < x < $50 | $1.99 |
| $50 < x < $200 | $2.99 |
Withdrawal Fees
Coinbase charges a network fee for withdrawing currency that varies depending on how much traffic the network is witnessing at the time, and which cryptocurrency you are withdrawing.
For Bitcoin, it tends to be $1.00-$5.00, while it's typically less than $1.00 for other cryptocurrencies. To see exactly how much Coinbase will charge, you can attempt to withdraw funds and the platform will inform you of the current fees.
Spending Limits
You have a set amount that you can buy and/or sell through Coinbase weekly. If you've linked your credit card to Coinbase, you can buy up to $1,000 worth of cryptocurrency per week. If you're a verified US resident on the platform with verified debit and credit cards, Coinbase allows you to make transactions up to $50,000.
Depending on how long you've been trading on the platform, and how much information you've shared regarding your finances, etc., Coinbase can increase your spending limits. Keep in mind that spending limits are higher for ACH transfers, and lower for credit cards.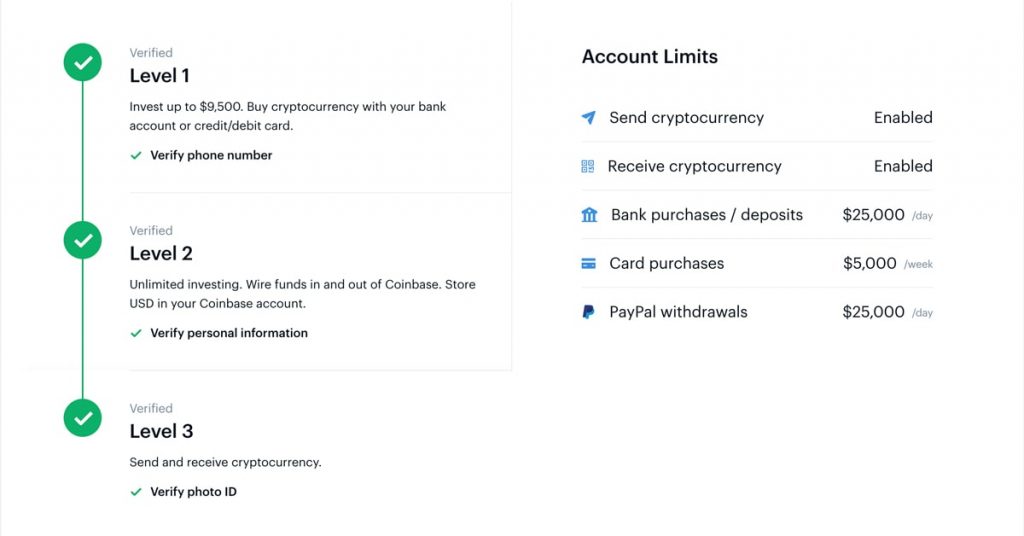 Miscellaneous
Apart from the above, your bank may charge you for buying virtual currency, so check with your bank to avoid unpleasant surprises. A debit or credit card transaction may also have its own fees, so it's better to ask regarding them rather than keeping yourself in the dark.
Staking Assets
If you have a cryptocurrency you can stake like Tezos (XTZ) in your Coinbase wallet, the platform allows you to receive your reward using Coinbase's staking services. Your reward will be according to that network's protocols, from which Coinbase will deduct a 25% commission.
Check out our Coinbase alternative article to see which exchanges charge lower fees than Coinbase.
European Customers
If you're using Coinbase from a country that's part of the European Union, the fees are as follows. If you're sending funds to Coinbase from a bank account, there's a 1% commission. Buying and selling cryptocurrencies incur transaction fees of about 1.49%, while buying with a Visa or Mastercard debit or credit card incurs a 3% charge. You can sell digital currency with Paypal; sending the funds to your account will cost 3.75% transaction fees.
The Coinbase network charges 0.15€ to withdraw currency from Coinbase to your bank account. To transfer virtual currency from your Coinbase wallet to another network's wallet, you'll pay the miners' fees; however, if you provide another person's email address (to whose wallet you're transferring your coins), there won't be any other fee. Coinbase won't charge you any fee for moving cryptocurrency from one Coinbase wallet to another.
How to Avoid Fees
If you use Coinbase as a 'Gateway' platform to purchase cryptocurrency then transfer those funds to other exchanges to trade with, then you can do this without paying any fees.
Coinbase waives fees when converting from USD to its native stablecoin USD Coin (USDC). The transaction must be made through a US Bank account (not a credit card), and after 3-5 business days, your funds will be available to withdraw.
You can then transfer the USDC directly to other exchanges like Binance and start trading. There are tens of direct USDC trading pairs available, or you can swap it with Tether (USDT) or Bitcoin (BTC) first.
Avoiding Withdrawal Fees
You can circumvent the network fees by signing into Coinbase Pro and withdrawing money through it.
On Coinbase, go to My Wallets and transfer funds to Coinbase Pro. You can then withdraw your funds from Coinbase Pro.
Another way to go about it is by logging on Coinbase Pro with your Coinbase credentials, clicking on Portfolios > Deposit, picking the funds or digital currency you want to withdraw, and selecting the option that comes up to move it from Coinbase to Coinbase Pro. Enter the amount you want to transfer from Coinbase. You can withdraw the funds without paying any withdrawal-related charges.