A Beginner's Guide on How to Purchase Chainlink and Safely Store It
Chainlink (or LINK) has been one of the best performing crypto assets over the last couple of years. LINK is one of the few coins whose price had seen a steady upsurge even during the crypto bear market of 2018-19. We have featured LINK in our 'best altcoins for 2020' article.
What is Chainlink?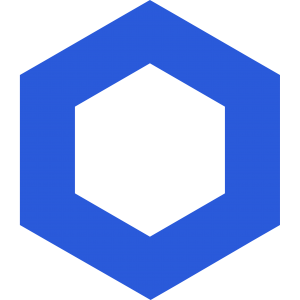 For certain applications, smart contracts need to exchange information with the outside world. Not only does this information have to be processed in real-time, but it also needs to be trustworthy. This is achieved through what is known as an "oracle" – an agent that verifies real-world information and transmits it to the blockchain, enabling the smart contract to be executed.
The Chainlink network provides reliable decentralized oracle service for complex smart contracts on any blockchain. Developed on Ethereum, Chainlink uses multiple nodes and compares different oracles for ascertaining the reliability of the data. The creator of the smart contract for the oracle that processed the submitted data is rewarded through the network's native ERC-20 LINK tokens.
How to Buy LINK
There has been a spurt of interest in purchasing LINK lately, accompanied by its price surge. Chainlink is listed on most of the notable cryptocurrency exchanges in the world. In this article, we'll look at different ways you can purchase and store LINK tokens.
1. Using Credit/Debit Card
For purchasing crypto assets using your debit or credit card, Coinbase remains as one of the most popular options. In some countries (such as the US and the UK), Coinbase supports direct bank transfers as well. The service charges vary depending on the method of payment and your geographic location. Coinbase also supports PayPal, but only for withdrawals.
Users can access the Coinbase desktop site, or the Android/iOS mobile apps. Before making any transaction, you have to complete ID document verification. After that, you can add your desired payment method through the Settings tab.
To buy LINK, navigate to the Trade tab, select Buy, choose LINK as the coin, and complete your transaction. For credit/debit card purchases, the purchased LINK will reflect in your Coinbase wallet immediately; for bank transfers, it will take 3 to 5 business days for the transaction to be confirmed, and the purchased assets will reflect in your wallet only after that.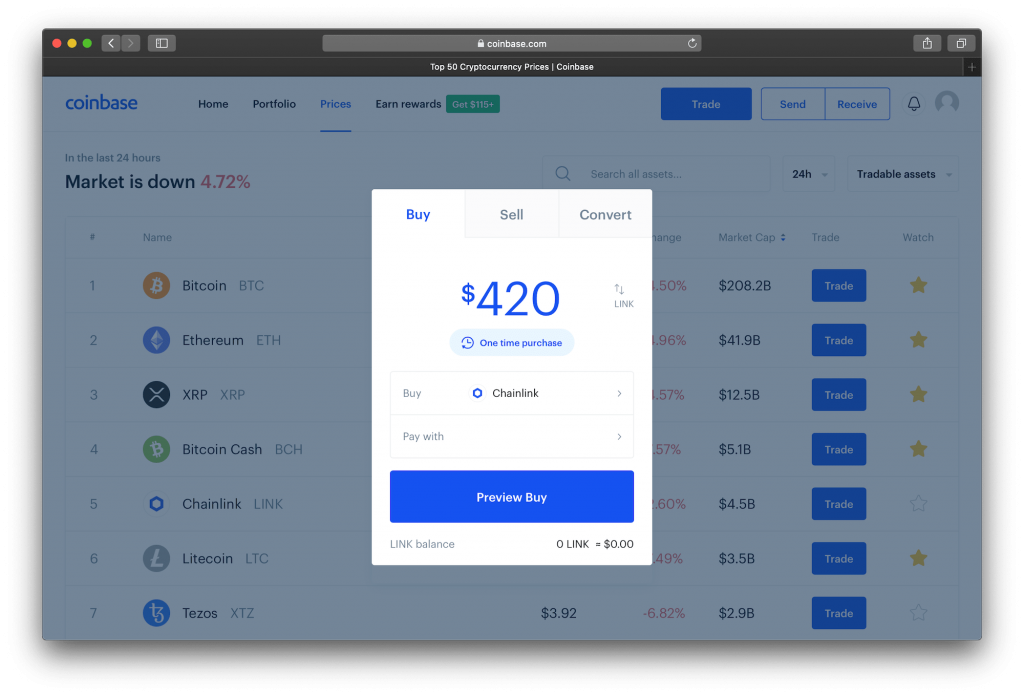 You can store LINK in your Coinbase Wallet if you plan to sell it after a short time. For long time crypto holders, it's always a safer option to withdraw your assets to a wallet whose private keys are under your control.
Chainlink is available on both Coinbase and CoinbasePro, which is aimed at advanced crypto traders. CoinbasePro allows users to purchase LINK using ETH as well.
If you are looking to purchase LINK on another exchange, check out our article Coinbase Alternatives for our top picks.
2. Using Cryptocurrencies
There are numerous options available when it comes to purchasing LINK using other cryptocurrencies like Bitcoin or Ethereum. Binance is one of the most reputable names in this space, generating almost 22% of the entire LINK trading volume in the global crypto market.
KYC is not essential in Binance, as long as your daily withdrawal is less than worth 2BTC. User ID authentication is necessary for higher withdrawal limits or for accessing Binance's advanced trading markets. Apart from the browser version, Binance Android/iOS mobile apps are also available.
Binance allows you to purchase LINK using Bitcoin, Ethereum, and Stablecoins like USDT, USDC, and TUSD. To deposit your crypto to your Binance account, go to Wallet on the top right corner, click on Spot, choose the coin that you're going to use, and click on Deposit next to it. Copy the deposit address or scan the corresponding QR code, and transfer your coins there.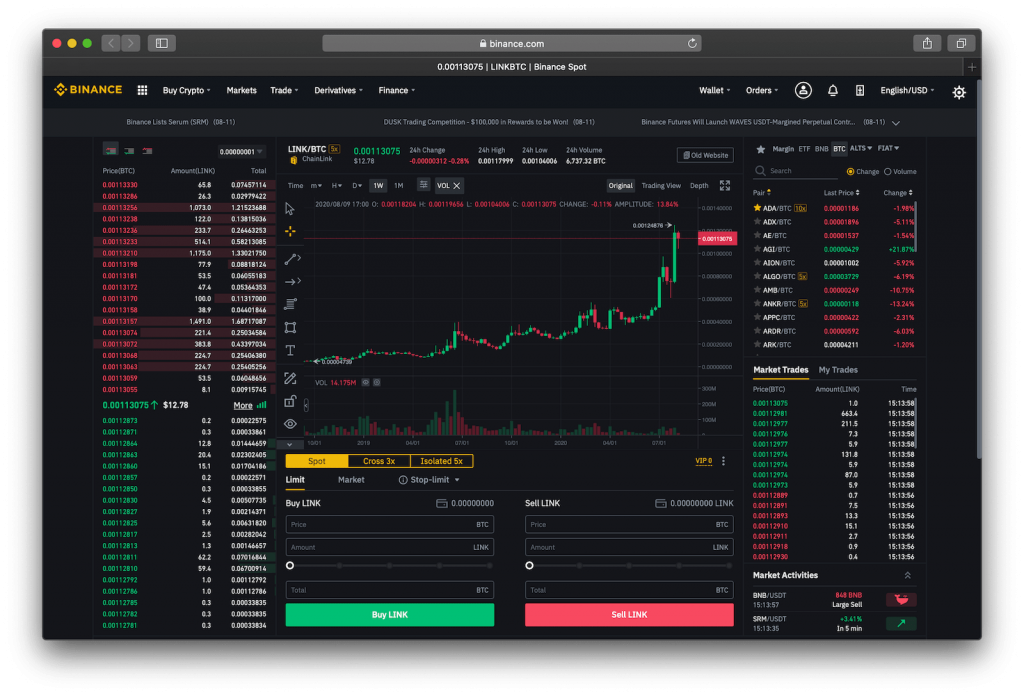 Once the deposit is confirmed, you can go to that particular LINK market and make your purchase, using either the 'Limit' or the 'Market' buy option. The purchased asset will show up in your Binance wallet as soon as the order is matched and fulfilled. However, as already mentioned, transferring your funds out to your wallet is always the smarter option.
Apart from Binance, LINK is also trading on other exchanges like Huobi and Kraken. To know more about Kraken, you can read our in-depth Kraken analysis. For other alternatives, give our crypto-exchange comparison article a look.
3. On Decentralized Exchanges
Decentralized exchanges (or DEX) have come up as a viable alternative to centralized exchanges. While meant for slightly advanced users, a DEX doesn't require any sort of KYC authentication and gives the user complete control over the traded funds. On the downside, most DEXs are built on the Ethereum platform and allow cryptos to be purchased only through ETH or ERC20 compliant Stablecoins (like USDT and USDC).
Uniswap is one of the most reliable and popular DEXs in operation today. It's simpler to use than most of its counterparts. Like other DEXs, you need an Ethereum wallet (such as Metamask) to trade here. Uniswap offers the added advantage of trading crypto assets directly through your wallet; you don't have to deposit or withdraw funds to and from the exchange wallet.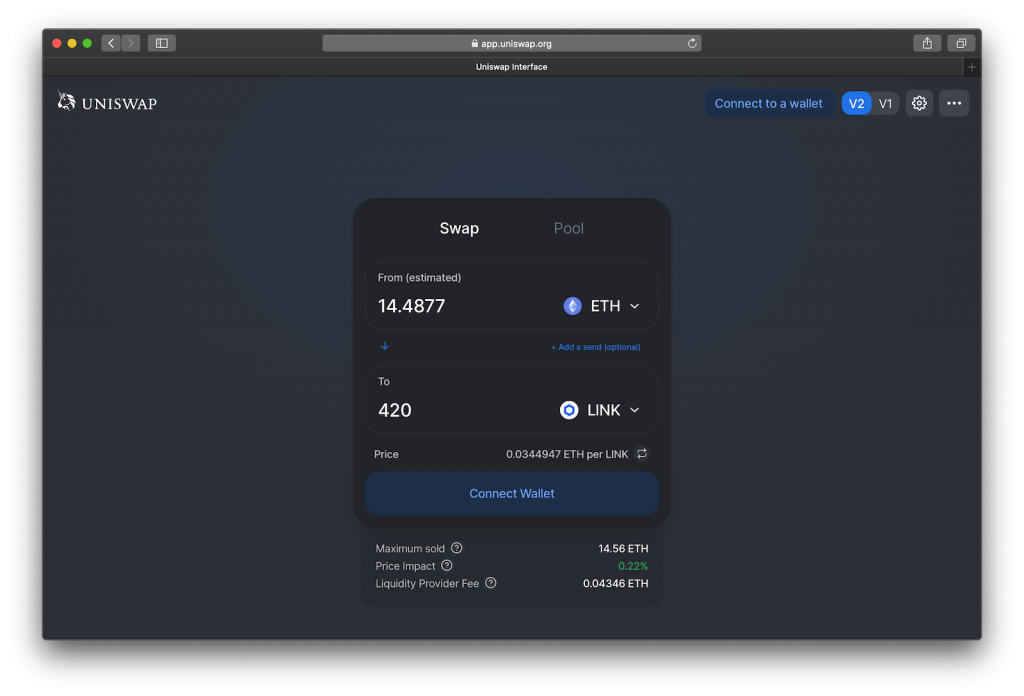 To make a trade, first, connect your ERC20 wallet using the Connect Wallet option. You can choose either V1 or V2, depending on where you get a better deal. Once your wallet is connected, stay on the Swap page, choose ETH (or any other ERC20 token) in the From field, and LINK in the To field. Enter the amount of LINK you want to purchase, then hit the Swap button.
The tokens you bought will be directly deposited to your ERC20 wallet, as soon as the Ethereum blockchain confirms the transaction. No separate step is required to withdraw LINK to your wallet. It's always a good practice to disconnect your wallet after your trade is confirmed.
Where to Store LINK
While crypto exchanges make their best effort (or so we are told) to ensure the safety of stored funds, almost every major exchange has been the victim of a hack somewhere in its lifetime. And even though these exchanges claim that their funds are insured, there's no guarantee whether you would get back all your funds if a hack occurs or how long it would take to get them back.
The safer option is always to store your crypto assets in a wallet where the private keys are never exposed online. Multiple options are available to store Link tokens.
1. Mobile Wallet
The most convenient option to store LINK is a mobile wallet, such as Trust Wallet or Atomic Wallet. The private keys are never displayed on the device. Wallet accounts can be transferred to other devices or recovered using a 12-word recovery key. However, being similar to any other mobile app, mobile wallets are still susceptible to mobile hacks.
2. Web Wallets
Web wallets like Metamask and MyEtherWallet are a safer choice for storing LINK. Since LINK is an ERC20 token, any such wallet DApp that runs on the Ethereum blockchain will support LINK. It's necessary to have such a web wallet to trade on some DEXs too. However, operating these wallets is slightly more complicated than mobile wallets.
3. Hardware Wallets
Hardware wallets are the safest choice when it comes to storing LINK or any other cryptocurrency. Trezor and Ledger are the most popular brands available in the market. The private keys are stored within the hardware and never displayed to the user, making them completely hack-proof. Unlike other options, you'll have to purchase the device (and possibly also pay custom fees), but at the end of the day, it's a small price to guarantee your peace of mind.
The Future of Chainlink
Chainlink enjoys the first-mover advantage in the decentralized oracle service field. There's no other notable rival apart from Band Protocol. A host of blockchain projects are working with Chainlink, using their oracle services for various decentralized applications. In fact, Chainlink seems to be announcing partnerships with new projects every other day!
Chainlink has also forged a partnership with SWIFT, the largest global provider for secure banking transactions. This partnership is expected to help Chainlink make significant inroads in the Fintech space. Recently, Chainlink has also forayed into the field of Decentralized Finance (DeFi), by providing secure, reliable, and transparent price feeds for DeFi applications.
Investing in cryptocurrencies always carries a certain amount of risk. Whichever method you choose to buy or store LINK, make sure to track your assets using Crypto Pro, the most private crypto portfolio tracker available.