Last week saw a steep decline in bitcoin (BTC) that finally broke the price seesaw of the few preceding weeks. The bears may finally have a foothold, aiming to retrace some of the gains since March. This week continued the downward trend, with investor sentiment turning slightly bearish.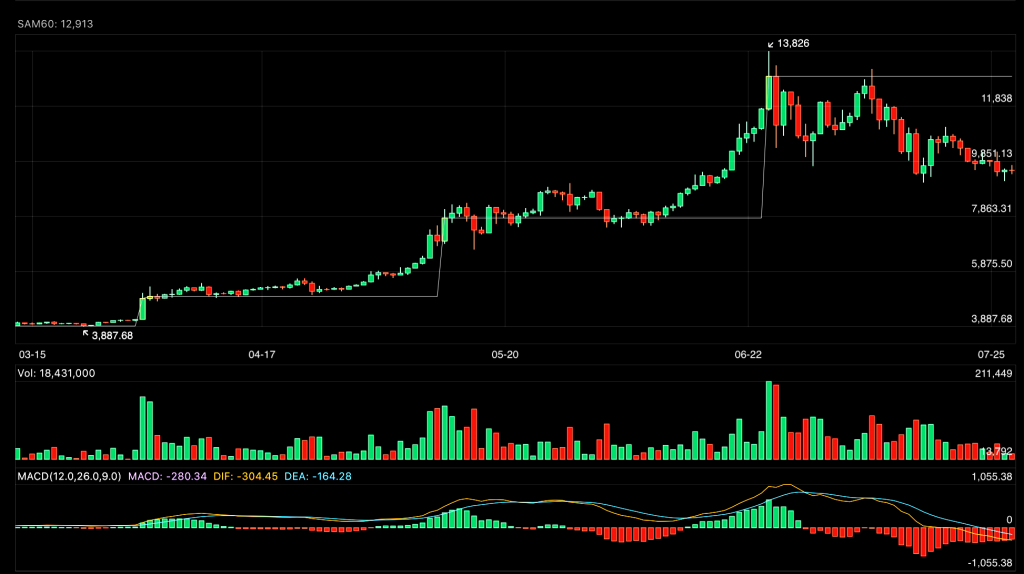 Make no mistake, the market is still hot. Market cap and volume have far surpassed 2018 levels. Cryptocurrencies are once again a household name. While some investors have retreated to the sidelines to suss out what's next, many are still long in the market.
Major Crypto News
Here is a brief recap of the top trending stories and a brief synopsis. You can find these stories and more under the news section of the app.
IRS Crackdown on Crypto Currencies and tax pays has some investors spooked. 10,000 digital currency holders received warnings to pay their taxes. The IRS now treats digital currencies as property, and missed taxes could " be subject to criminal prosecution.". Mnuchin believes that Crypto will not be relevant in the coming years.
Blockchain companies are teaming up with retail stores. Rewards app Lolli has partnered with Safeway Groceries to give members rewards in the form of bitcoin (BTC). UTRUST is enabling customers to purchase electronics using cryptocurrencies. Currently only available to those in Portugal. The AS Roma Italian football club has joined in the excitement as well, offering cryptocurrency rewards.
In the technology sector, crypto miners have found a new source of power. Cloud-based servers have become abundant, allowing hackers to exploit their resources to mine for cryptocurrencies. A Data breach at YouHodler crypto loan platform has left millions of users information exposed.
Top Weekly Gainers
There continues to be enthusiasm for cryptocurrencies with bitcoin's recent rally. This interest has driven gains in a slew of altcoins. While the market may be cooling off from this time last month, select altcoins continue to post noteworthy gains.
Any Price
Dexter G (DXG) +1561.78%, price of $0.570000
Proton Token (PTT) +637.66%, price of $0.001593
UnlimitedIP (UIP) +218.59%, price of $0.048516
Price Greater Than $1.00
Zenon (ZNN) +102.57%, price of $3.33
1irstcoin (FST) +74.77%, price of $5.72
DEXTER (DXR) +42.21%, price of $409.13
Price Action Analysis
Bitcoin
Bitcoin (BTC) started the week at $11,000, an important psychological price point. This high came at the expense of the prior week's bear takeover and subsequent bull reversal. Sunday's (July 21st) high was a turning point, with a sustained downward trend from the $11,000 peak to a current price around $9,500.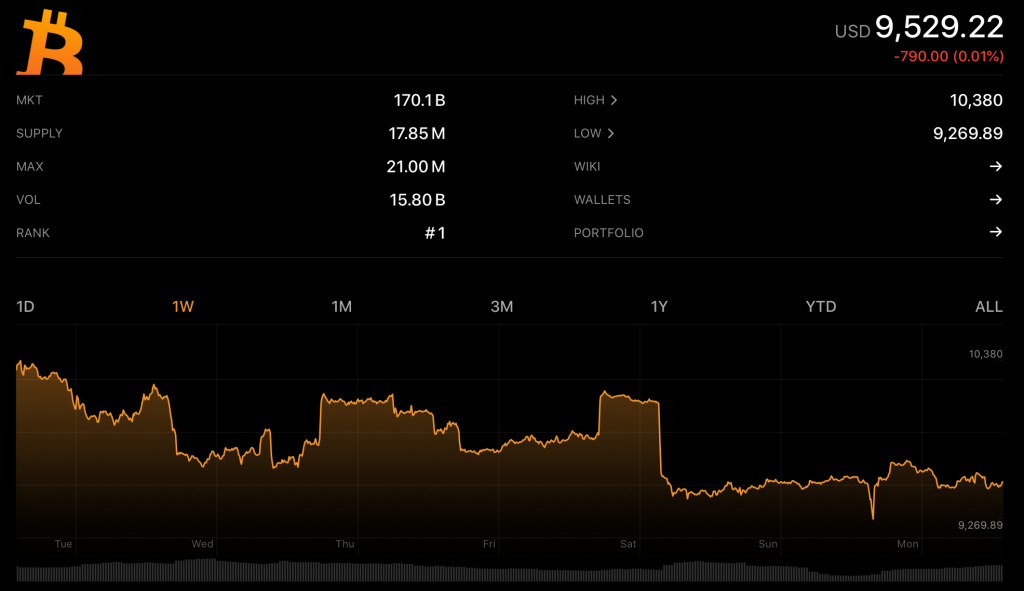 Saturday Sell-off
Saturday witnessed a dramatic confrontation between bears and bulls, with the price shooting up from $9,827 to a high of $10,172. A 10-hour lull followed, after which sharp selling pressure drove the price down to $9,400. The price continues to play about the critical $10,000 mark.
Sunday Consolidation
With both the steady downward trend of the past week and the selling on Saturday, this Sunday looks to be a period of calm and consolidation as bears and bulls take a breather. The key psychological resistance of $10,000, though broken earlier in the week, looks to still be in play.
Ethereum
Ethereum (ETH) has had a tumultuous week as bears were able to overcome bullish pressure, driving the price downwards. Price began at a high near $240, and are resting at $207 as of this writing.
Similar to BTC, ETH continues to wrestle with the key support of $200. Bears tested this support twice during the week, once on Wednesday and again on Saturday.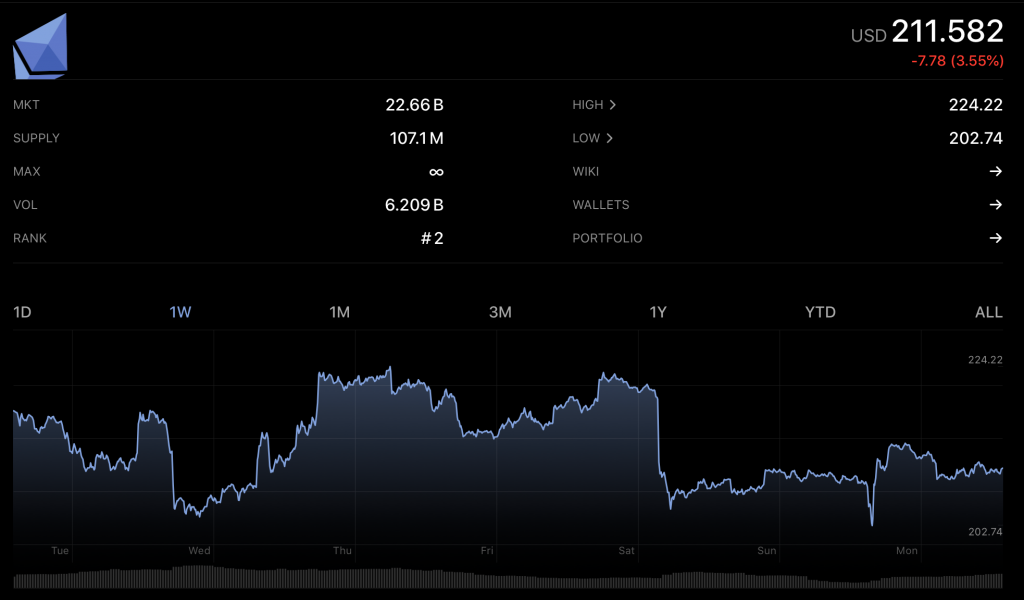 Future price movements could be determined by the broader market, as investors are regrouping on the sidelines.
Ripple
Ripple (XRP) followed suit, losing near 7% of its value as prices tumbled this week. XRP is tracking closely with the big players in the market, suggesting macro-trends and investor sentiment overall could play an out-sized role in the coming weeks.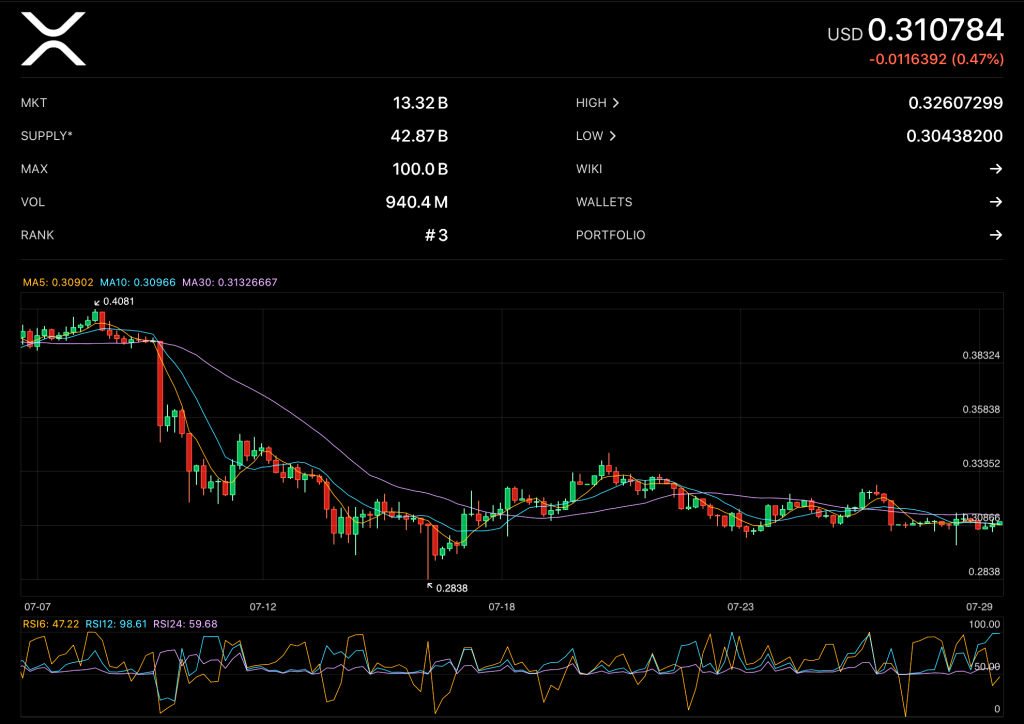 A weak Relative Strength Index (RSI) suggests XRP could be on its way towards a consolidation, followed by a downward price trend.
Weekly Overview
Flattening volatility throughout the week may further indicate market cooling, or consolidation, as participants make sense of the past few weeks and integrate broader macro-trends.
Bitcoin Volatility Index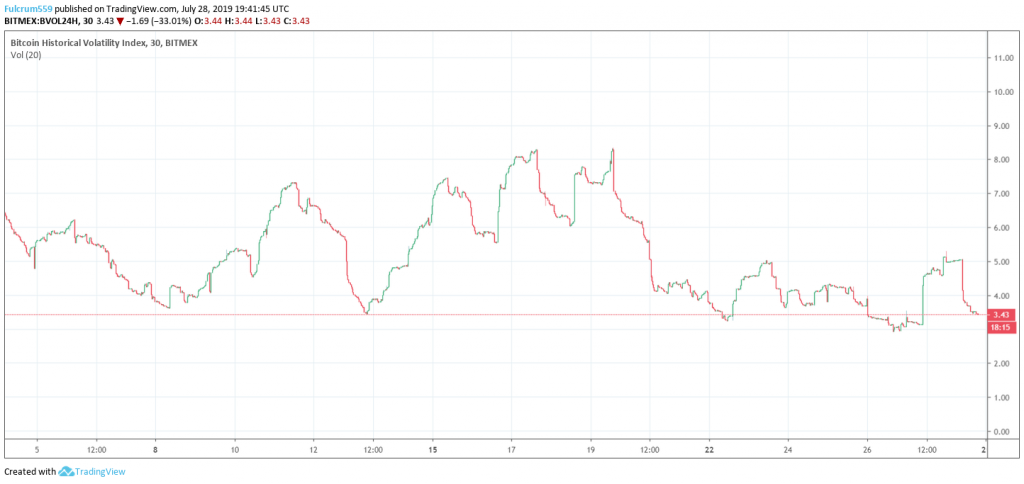 A slow trend upwards of short positions may signal increased investor pessimism in the wake of recent gains.
Bitcoin Shorts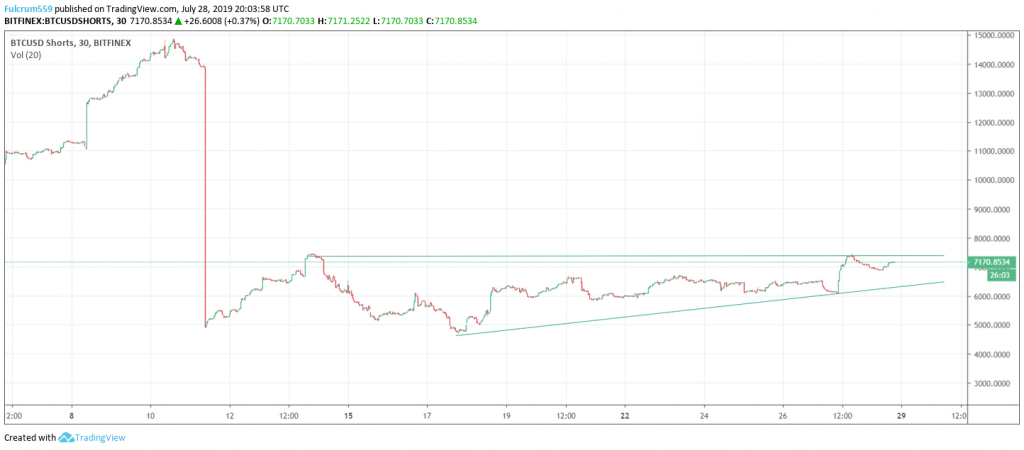 This growing pessimism could prepare a future wave of bear moves, driving the market down towards $9,000. Make sure your crypto portfolio tracker is fired up, with alerts at the ready — next week could be big.
What to Expect Next
Cryptocurrencies are at a particularly critical time, as both bulls and bears are consolidating their positions after the week's events. The market may be bracing for, among other things, the US Senate Committee on Banking's hearing on the regulatory framework of both blockchain and digital currencies. The hearing is scheduled for Tuesday at 10 a.m. EST. Favorable news, coupled with a bull resurgence, could reverse the past week's downward trend.
Stay in Touch
We like to keep in touch with like-minded people. You can follow us on Twitter, join our Telegram Group, like us on Facebook, and even send us an email at [email protected] if you need assistance or have a suggestion in mind.