4 Ways you can directly or indirectly invest in blockchain technology
"Bitcoin price crash wipes $10 billion from cryptocurrency's value in 30 minutes" reads just another standard headline in the life of a crypto investor. Fortunes are won and lost on the crypto roller coaster. Tired of the market whiplash?
Many crypto traders and enthusiasts see cryptocurrencies as more than a store of wealth or tool for speculation. Cryptocurrencies – and their foundation, the blockchain – are heralding a new financial paradigm. No more banks, no more middleman. Autonomy, flexibility, and liquidity.
Is it the future? We think so.
Power up your trading station, grab that stylus and get ready to invest in the tech powering the financial revolution.
What is a Blockchain?
Blockchain is a distributed ledger that exists as a network to facilitate peer-to-peer interactions. The network records transactions in a list of records called blocks. These records are strung together to create a chain of blocks – the blockchain. The system is powered by miners who both run the network and create a new currency.
The magic in the technology is that the network has no oversight, is self-regulating, and user transactions are technically anonymous.
What a big shock to traditional financial markets run by banks and other intermediaries. No wonder they call this The Blockchain Revolution.
What Makes Blockchains Valuable?
Before you rush headlong into any investment, you'll want to consider what benefits might make it an attractive investment.
No financial oversight. No middleman or third parties
Data integrity. Data cannot be altered, and all computers carry the entire network
Low fraud. Network built through shared consensus
Transparency. All transactions are known on the entire network
Smart contracts. Organize a variety of transaction types between users
Security. Cryptographic protocols and network consensus prevent tampering
Trust. Built-in trust protocols ensure the network agrees with any recent transaction
Blockchain carries with it exciting future potential for consumers, businesses, and governments alike.
These are a few ideas to whet your appetite. The technology isn't going away any time soon. That means now is the time to get into the investment game.
How to invest in Blockchain
Before you get started, take a look at the Reality Shares Nasdaq Blockchain Economy Index (RSBLCN). This is one way to track the general investment in blockchain technology. As the index states:
RSBLCN tracks "the returns of companies that are committing material resources to developing, researching, supporting, innovating or utilizing the technology for their proprietary use or use by others."
Below are the ways to invest in the technology underlying your favorite (or infamous) cryptos.
1. Exchange-Traded Funds (ETFs)
ETFs are investment funds that hold a broad basket of commodities, such as stocks or bonds. ETFs often have a particular focus, such as technology stocks or 1- to 3-year treasury bonds.
A number of block-chain focused ETFs have hit the market in recent years. Below are a few to consider.
Reality Shares Nasdaq NexGen Economy ETF (BLCN)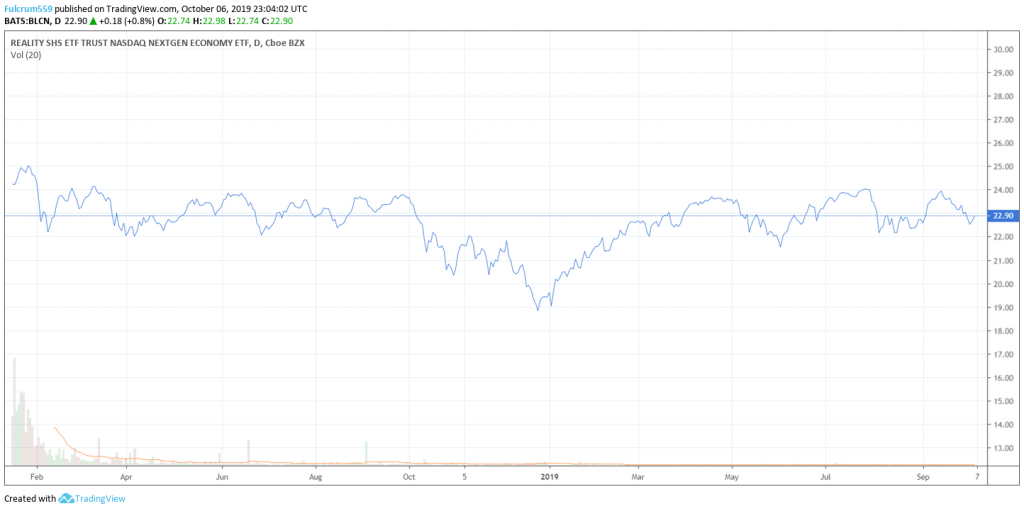 Started in 2018, this fund seeks to mirror the Nasdaq Blockchain Economy Index. Assets total over $65M and are focused on companies that research, develop, and utilize blockchain technology. Noteworthy holdings include IBM, Square, Microsoft, and Intel.
Innovation Shares NextGen Protocol ETF (KOIN)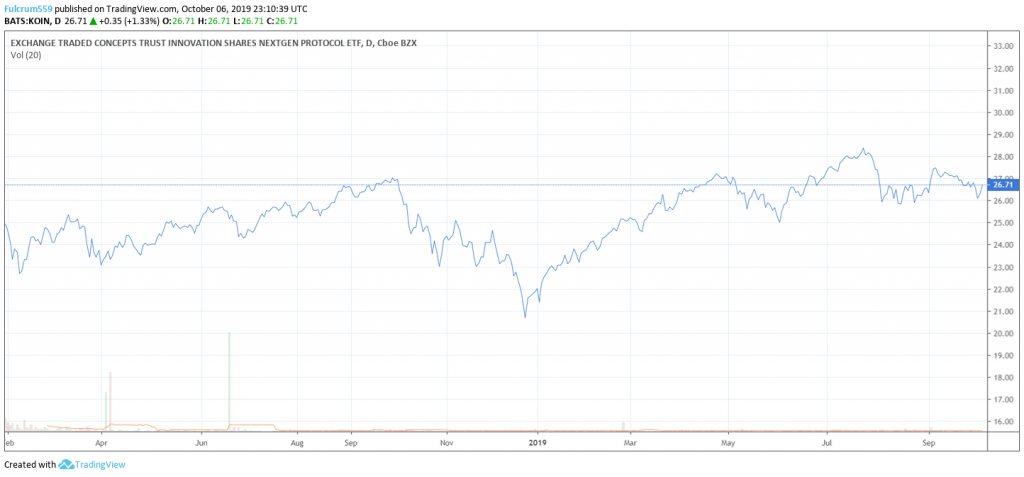 KOIN began in 2018 and is less focused on blockchain-only companies. It's rather light on market cap with just over $10M as of this writing. Rather, this ETF targets companies investing in four crypto-related categories: crypto payees, mining enablers, solution providers, and blockchain users.
Amplify Transformational Data Sharing ETF (BLOK)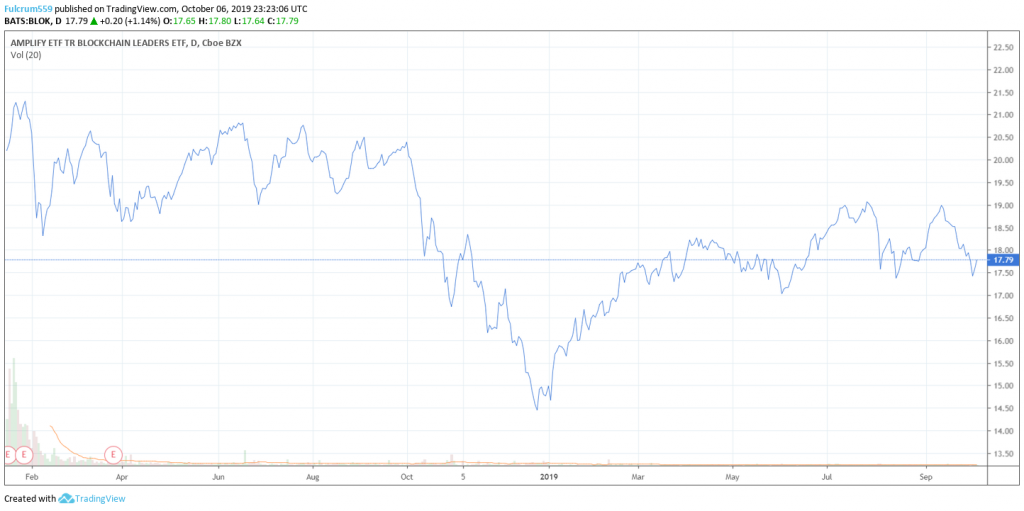 The oldest ETF on our list, BLOK kicked off in 2016. The fund has amassed over $100M in assets. It focuses on technology and financial services stocks. Top holdings include GMO internet, Square, Facebook, and Digital Garage, among others.
First Trust Indxx Innovative Transaction & Process ETF (LEGR)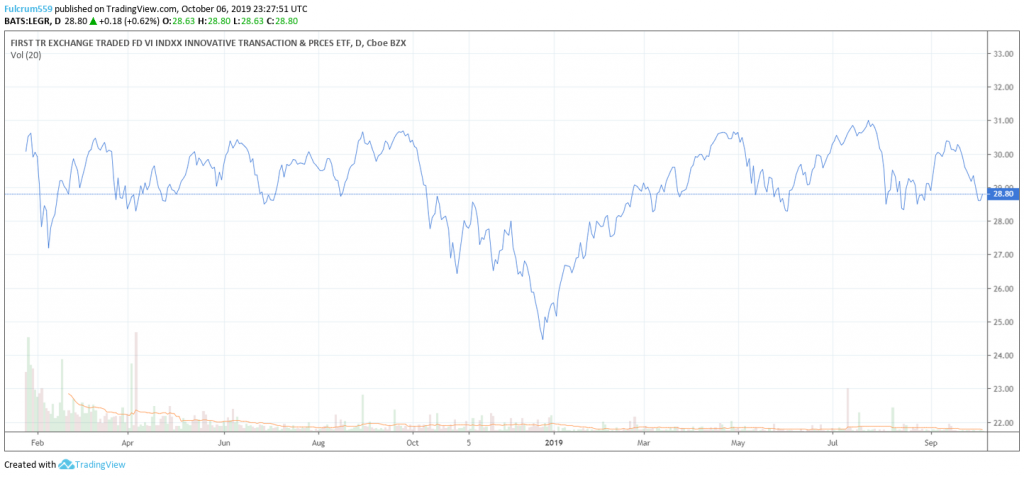 LEGR began in early 2018 and clocks in at around $40M in net assets. Similar to BLOK, LEGR focuses on technology and financial service companies centered on investing in the blockchain. This ETF doesn't maintain more than 1.6% in any particular holding.
2. Individual Stocks
If ETFs are too paltry an investment choice, then try your hand at individual stocks. Numerous companies are investing heavily in blockchain technology. The challenge is to select the companies that are orienting a significant portion of their business (or operations) around blockchain tech. Here is a cross-section of companies to consider.
Overstock (OSTK)
You may have heard of Overstock's pivot to blockchain and cryptocurrencies. The company has bet big that distributed ledger tech will not only transform business but will gross tremendous profits in the years to come. The company is transitioning out of e-commerce and is looking to run a blockchain business. What this means is hard to say but stay tuned on Overstock as a frontrunner in the blockchain investment space.
Nvidia (NVDA)
Famed graphics and computer gaming company Nvidia is poised to reap significant rewards from blockchain investments. Many cryptos run on a discovery model for generating new coins. This means computers have to toil away solving complex mathematical equations to 'earn' new currency. CPUs – and more importantly GPUs – are used to run mining rigs for many cryptocurrencies. Sales on GPUs have increased in recent years as miners have purchased GPU powerhouses to mine digital gold.
Mastercard (MA)
As a leading credit card processor, Mastercard has a lot to lose if blockchain tech catches on. With that in mind, the company has invested significant resources into integrating blockchain technology into its payment network.
3. Cryptocurrencies
Cryptos are an obvious way to get into the blockchain game. You can have a blockchain without a cryptocurrency, but you can't have a cryptocurrency without a blockchain. Think of the blockchain as a network you are investing in.
Pure Cryptocurrency
Bitcoin (BTC) is the leading example of a pure cryptocurrency blockchain. BTC lives on the blockchain and fulfills very specific functions: to buy, sell, and trade crypto. The blockchain is just a digital currency. Investment here means you hope that the future price of BTC will rise and that BTC will be a good store of value in the future.
Other popular pure cryptos include:
Crypto + Network
Other cryptocurrencies, like Ethereum (ETH), are a software platform first and a coin second. Ethereum is a distributed ledger that has apps and smart contracts built into it. The platform runs on Ether, its native cryptocurrency.
Other popular crypto-network hybrids:
4. The Hyperledger
What sounds like a Bladerunner (2049, starring Mr. Gosling) creation is actually a consortium of companies led by the Linux Foundation. The goal: "to advance cross-industry blockchain technologies". Companies in the effort include IBM, Baidu, Airbus, JP Morgan, and a whole host of others. While you can't invest in the project, you can view it as a good guide for which companies to both pay attention to and to invest in. The companies span a wide range of industries, from finance to IoT to supply chains.
The Sky's the Limit
Whether or not your favorite altcoin is here tomorrow is next-to-impossible to predict. What is for certain is that blockchain tech is here to stay. The technology is still relatively young, and firms are still trying to get a handle on how to implement it. If you are tired of watching your crypto portfolio swing to and fro, then a more stable investment in the technology driving the future – blockchain – may be a smart move.