5 way you can purchase bitcoin without being tracked.
Privacy is a commodity in the digital age. Big Tech continues the harvesting of user data and sensitive breaches continue to worsen globally. Anonymity is the watchword for the digital millennium. As Bitcoin becomes more popular, more people are looking at how to buy Bitcoin anonymously.
In the early days of the crypto mania, purchasing Bitcoin (BTC) came with a healthy dose of anonymity. Governments and regulators hadn't caught on to the revolutionary potential of the currency. That meant that banking regulations – known as Know Your Customer (KYC) – weren't yet applied to the crypto space.
Now, despite much of the hype, BTC is recognized not to be an anonymous cryptocurrency but a pseudonymous, or pseudo-anonymous, medium of digital exchange.
Is Bitcoin anonymous?
The Bitcoin ledger is a publicly available recording of every transaction on the network. When BTC is bought or sold, the transaction is broadcast to every node and inscribed for-ev-ver on the blockchain. While a public address is unknown to would-be hackers (or the IRS), sufficient digital snoopery can sometimes uncover the identity of a BTC holder. Dusting attacks are attempts to find who owns which crypto address.
Besides avoiding dusting attacks, crypto owners may choose to purchase anonymously for the following reasons:
Concern over exchange hacks
Don't trust the government and increasing financial regulations
You don't have or don't want the required identification to purchase BTC
You don't want anyone to know you are purchasing cryptos
Unfortunately, the halcyon days of purchasing BTC easily and with a higher degree of anonymity are long gone. Have no fear. There are many ways to buy Bitcoin relatively anonymously.
How to Buy Bitcoin Anonymously
Below are five different ways to purchase Bitcoin anonymously, which we will look at in more detail.
It's recommended you do your research and search for the best way for you. One method may be best depending on your location, anonymity needs, willingness to take risks, and your tolerance for extra fees.
BTC is still the Wild West, so make sure to do your homework before selecting a method and before engaging in a trade.
1. Bitcoin ATMs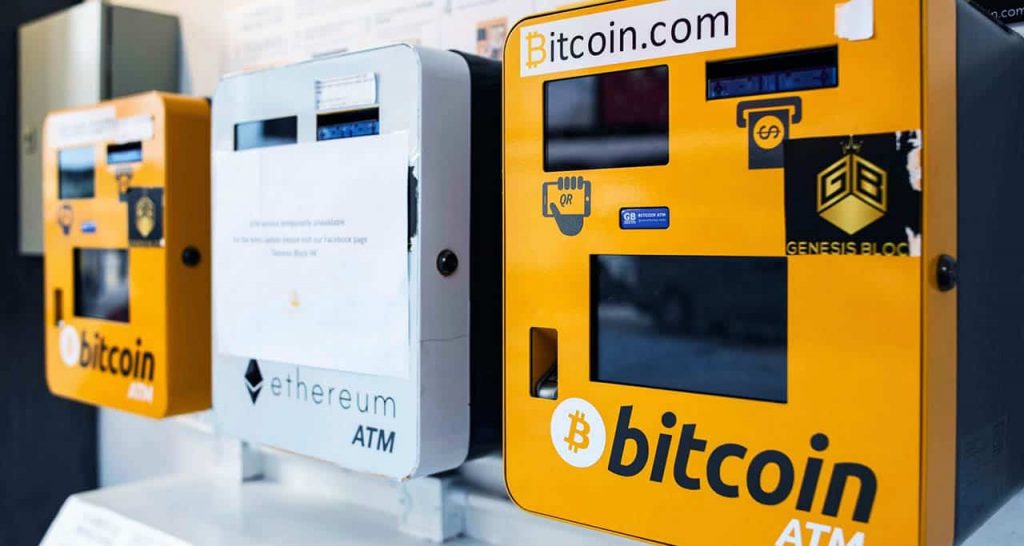 For 10 points, who can tell me which city had the first BTC ATM? Answer: Vancouver, Canada at Waves Coffee House in 2013. Lucky for us BTC ATMs are now all over the world.
If you've never purchased BTC from an ATM, there are a few important things to know. First, BTC ATMs are not like standard ATMs. They are connected via the internet to a particular exchange. This means that not every BTC ATM is created equal.
When looking to buy through an ATM, start with Coin ATM Radar. The website shows all known Bitcoin ATMs worldwide, with over 5000 ATMs in over 75 countries. At the time of writing, there were over 45 different BTC ATMs on the market. Six manufacturers dominate the market, with two – General Bytes and Genesis Coin – leading the pack.
When it comes to privacy, some BTC ATMs – but not all – require some form of identification. In the case of the Vancouver ATM, users had to create accounts and scan their palm print. Some require more robust identification, such as scanning ID cards or facial recognition. You may be able to find one that only requires a credit card, which means you can just buy a pre-paid card. You can also sometimes find BTC ATMs that verify through SMS. Grab a burner phone and you're set.
Remember though: Bitcoin ATMs usually have stiff fees, upwards of 5% or more. If you can find one with the right level of anonymity for you, this extra fee may be worth it.
2. Peer-to-Peer (Exchange)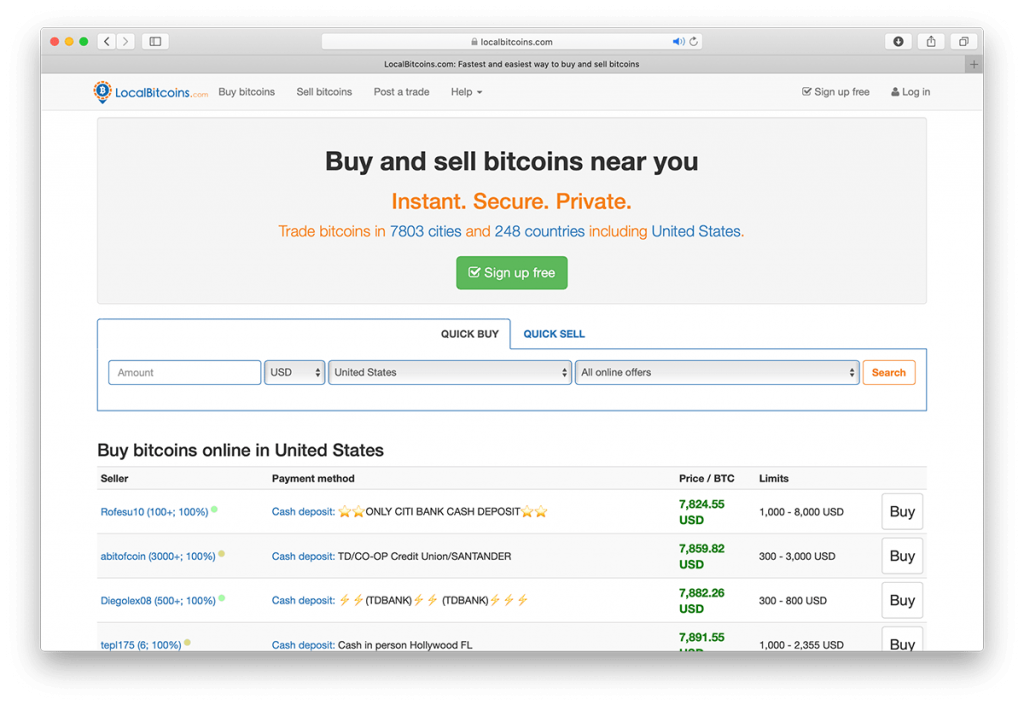 Otherwise known as meet someone online who will sell you BTC. It goes without saying that this isn't the easiest way to get Bitcoin. Fortunately, there are sites out there like LocalBitcoins, LocalCoinSwap, or Paxful that let you connect with others who are willing to sell their BTC.
Both sites have varying methods of exchange, from pre-paid debit cards to in-person cash transfers. You can make an anonymous account, but this may limit which users want to do business with you. Nevertheless, you can still find people willing to sell – especially for cash – anonymously.
Make sure when dealing face-to-face to use a reputable escrow service. Services like Paxful have a built-in escrow service.
3. Cashless Peer-to-Peer (Exchange)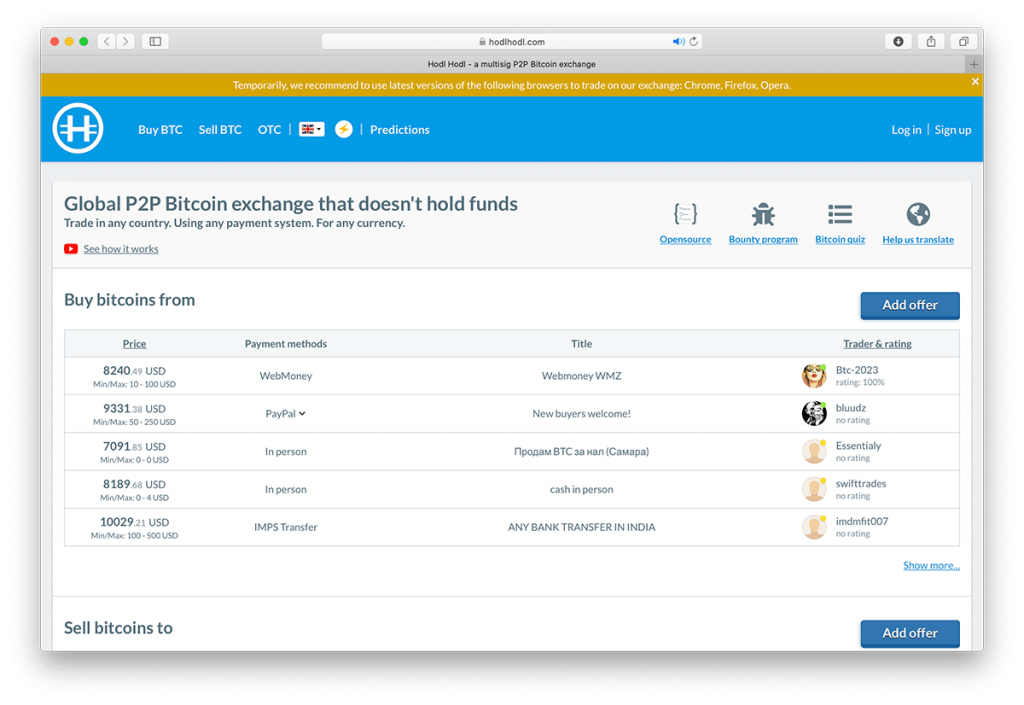 These services won't require ID and sometimes won't require registration. You will, however, be prohibited from using cash.
HodlHodl is a popular global P2P market that allows users to exchange BTC. You can search by sellers of Bitcoin and exchange funds through a number of methods, including bank transfers and SWIFT transfers. HodlHodl has a built-in multisig escrow service. The site itself doesn't hold funds so they can side-step the ID verification and KYC requirements.
Bisq is similar to HodlHodl but offers a few additional advantages. The P2P network is used over Tor, doesn't store trader data, doesn't require any registration, and operates as a decentralized autonomous organization (DAO)
4. Peer-to-Peer (Off-Exchange)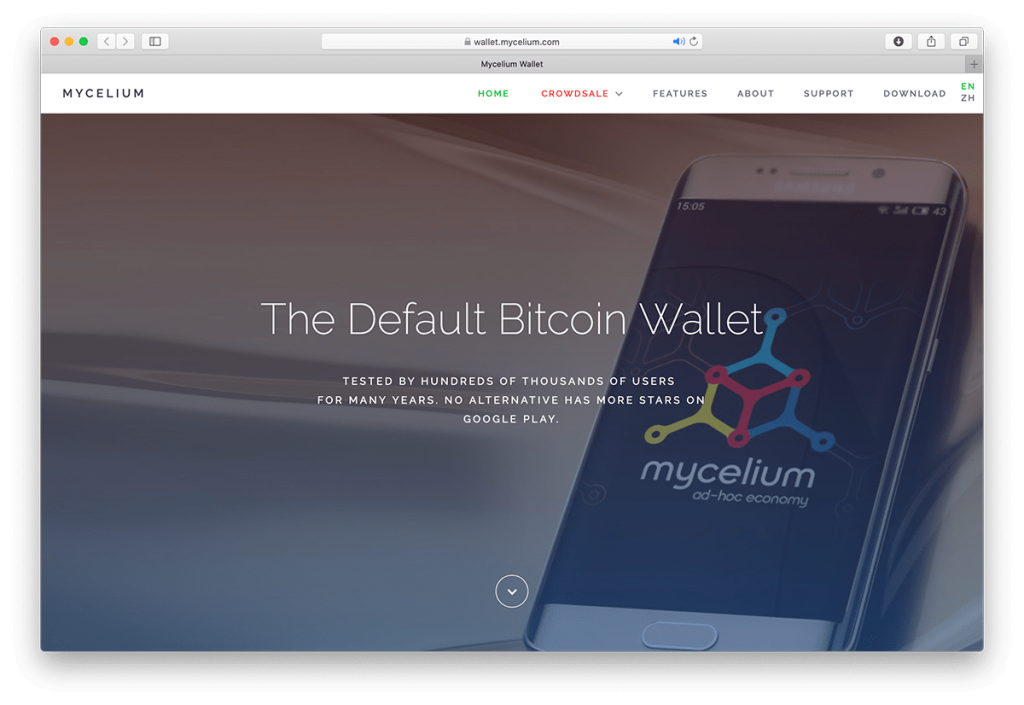 If you want to avoid exchanges altogether, then head over to the Mycelium mobile wallet. The wallet has a built-in feature called Local Trader. Local Trader can search for all BTC sellers nearby. Depending on your location, you may have few or many sellers nearby. The transfer is wallet-to-wallet through an escrow service.
After Mycelium you'll have to get creative. You can try and find sellers on websites, forums, or the Bitcoin subreddit. Beyond these, you can download Tor and head into the Darknet. How you conduct the trade will be up to you and the seller.
5. Small Amount Purchases
There are two services that sell small amounts of Bitcoin by gift card or SMS. Coinmama allows buyers to pay with Visa or Mastercard gift cards. Wall of Coins is a peer-to-peer exchange that you can purchase using just an SMS from a (burner) phone.
Which ever medium of exchange you choose, make sure to use Crypto Pro to track your investments – The only cryptocurrency tracker that doesn't track you back.