An overview of 10 popular alternatives to Cryptopanic
The world of cryptocurrency moves fast. Every day, news is released in a volume that would make even the most experienced cryptocurrency investor dizzy.
Without the help of aggregation tools like CryptoPanic, crypto investors and supporters would easily drown in a sea of information.
Over the past few years, CryptoPanic established itself as one of a few popular tools aimed at taking all the most recent cryptocurrency news and organizing it into a way that is far more readable than visiting each news source separately.
While CryptoPanic remains an extremely powerful platform, it isn't necessarily the best tool for everyone. Below we've broken down the best alternative tools for consuming cryptocurrency news.
Crypto Pro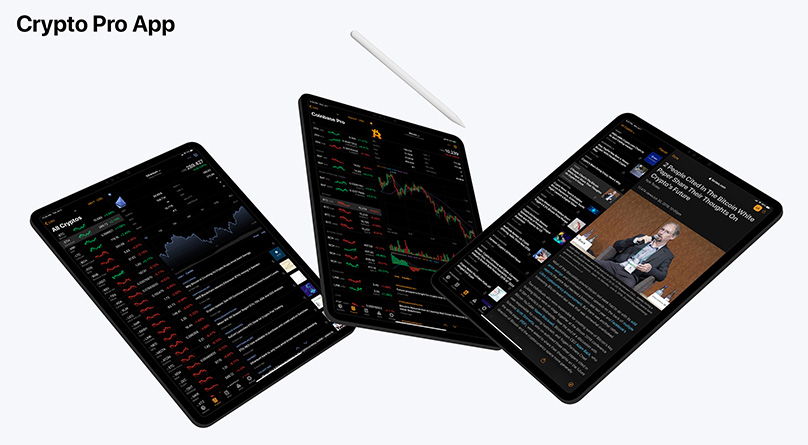 The first tool on our list is Crypto Pro. While Crypto Pro offers WAY more than just news aggregation, the news component is beautifully delivered through a mobile app which makes staying updated on the go super easy.
Crypto Pro's news section is extremely easy to navigate and brings the most relevant industry updates straight to your pocket.
The Crypto Pro platform is built with cryptocurrency traders in mind and, as such, has tons of helpful tools that help keep traders better informed than other applications.
One tool traders really love is the ability to set both price and news alerts specifically for assets in their wallet, ensuring users are in-the-know about the news most relevant to them.
Furthermore, the platform offers users easy integration with their exchange's API to seamlessly sync their portfolio data into the Crypto Pro portfolio tracker.
Apple Watch users will also love Crypto Pro's stunningly aesthetic Apple Watch App as well.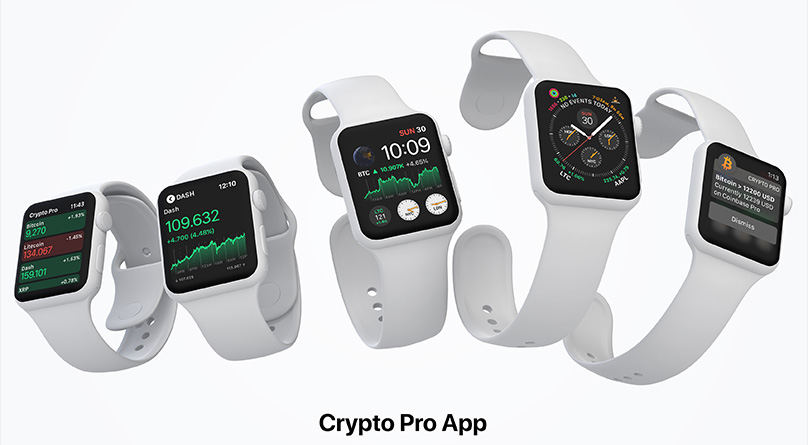 Download the Crypto Pro App for iOS
CryptoControl
CryptoControl offers an inclusive solution for cryptocurrency traders. This platform has not only a news aggregator but also a social aggregator that compiles all the top community-generated content across Twitter and Reddit.
While the interface is a bit clunkier than most options on this list, it makes up for the lack of style by offering an impressively massive amount of available information.
CryptoControl also offers a really interesting news heatmap. The heatmap makes visualizing the days' top news, filtered by importance, really easy.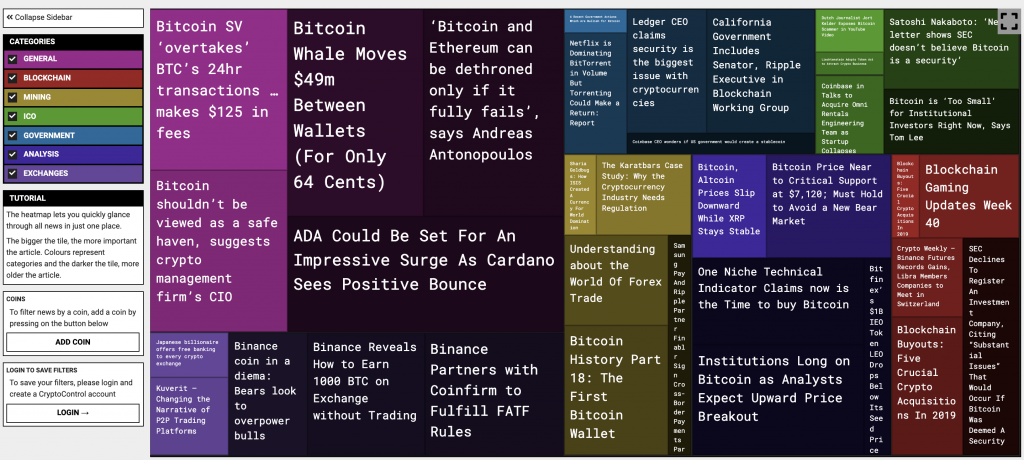 Another noteworthy feature of the CryptoControl platform comes from its trading terminal which is soon to launch. Within the trading terminal, users can complete arbitrage trades across different exchanges. This advanced trading technique is an excellent way for traders who benefit from the price differences available across the many different cryptocurrency exchanges in place today.
For traders seeking a single website to trade and stay up to date with the latest in cryptocurrency news, CryptoControl is a great solution.
CoinSpectator
CoinSpectator provides news feeds from social media platforms such as Twitter. The platform pulls information regarding ICOs, which are to be launched soon as well. Another great feature offered by CoinSpectator comes from its price tracker, which keeps a live update of the top 16 cryptocurrency asset prices on the market.
Another exciting feature from this platform is offered with their email news updates. This email blast will keep you up to date with more significant changes in the cryptocurrency sector with direct emails to your inbox.
CryptoGoat
Another excellent option for cryptocurrency news aggregation is CryptoGoat.
CrpytoGoat's platform looks a bit more similar to that of a blog than other tools on this list. While some might find this more difficult to consume large amounts of information, the format is still popular with many users.
CryptoGoat pulls news from only top-level news publications like CoinTelegraph and, ensuring users see only highly
One benefit of CryptoGoat is the fact they only use popular news sites that are more reliable often than Reddit posts.
Interestingly, CryptoGoat also works to establish an unbiased view of the market for traders and does this by prohibiting sponsored content and not producing any of their own content.
CryptoCoin.Pro
Next CryptoCoin.Pro brings another solution for cryptocurrency traders looking to stay up to date with news. One great feature of the CryptoCoin.Pro platform, focuses on the initial coin market and can help investors stay up to date with upcoming ICO projects.
Furthermore, CryptoCoin.Pro offers a section dedicated to blockchain e-books and the ability for users to download them. Finally, another fun feature provided by CryptoCoin is their "Did You Know" section. This section includes a plethora of interesting facts about cryptocurrencies and blockchain technology.
CoinLive
Another fantastic resource for cryptocurrency news aggregators includes CoinLive. The site offers an aggregated list of cryptocurrency news and market analysis in an easy to digest manner. Interestingly, CoinLive also consists of a plethora of video content for users to enjoy. The array of video content on the site helps to complement their market analysis and news coverage of the cryptocurrency markets.
With coverage from CoinLive, users should be able to get a better understanding of the crypto markets from firsthand accounts of users through the site's shared video content. With this in mind, the platform has positioned itself well beyond a simple news aggregator to offer a full array of cryptocurrency and blockchain-based educational tools.
Coinlib
Coinlib, provides another more inclusive service than merely a cryptocurrency news aggregator. The site includes features such as price alerts, charts, individual coin data, and a portfolio tracking option.
Coinlib does a beautiful job of offering these features in a live manner and without any additional charges to users. The platform has a unique benefit of empowering cryptocurrency traders to follow assets which they do not currently hold in their portfolios but perhaps may be interested in purchasing at some time in the future.
Furthermore, Coinlib brings together all of these features listed above with an additional best price explorer tool. This will allow traders to search across a plethora of different exchanges to find the best price for a particular digital asset. This tool can be an excellent resource for traders looking to take advantage of arbitrage opportunities or simply want to find the best location to purchase a digital asset for the lowest price on the market.
BitColumnist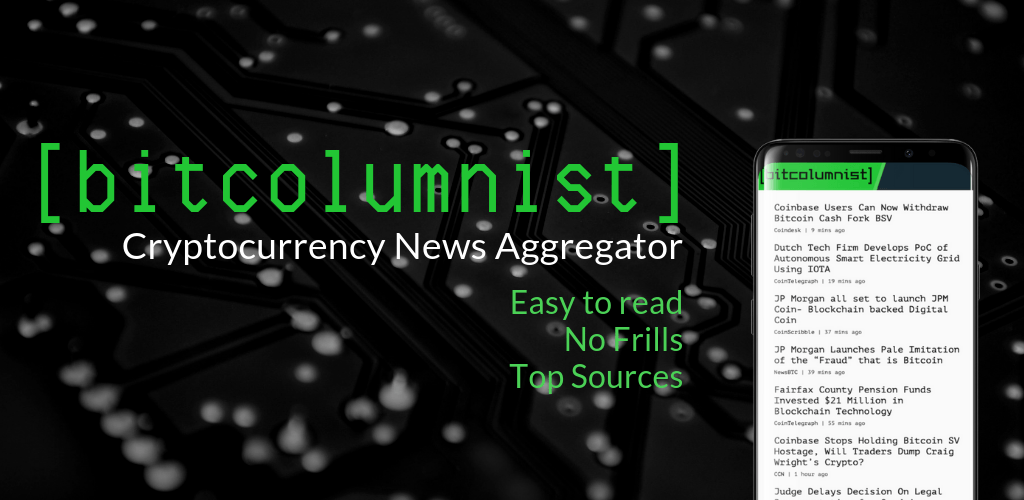 BitColumnist is a basic, bare-bones news aggregation tool that boasts itself as "Distraction-Free Crypto News". The streamlined tool pulls only from major cryptocurrency publications like CCN, CoinTelegraph, & CoinDesk and is available on both Web and Android.
Download the BitColumnist App for Android
CCowl
CCowl brings another excellent service to help keep up with the cryptocurrency news cycle. The site offers top tier news to avoid any misleading content with top contributing sources coming from CoinDesk, CCN, NewsBTC, and other reputable news sources. This helps CCowl provide an honest overview of the news within the cryptocurrency markets.
Furthermore, the platform comes with its own internal market index to track the cryptocurrency market capitalization for the top 50 assets. This includes pulling in data from a variety of reputable exchanges across the cryptocurrency markets such as Kraken, Binance, Bittrex, and Bitfinex.
FAWS
The FAWS platform, like a few on this list, offers users a plethora of features, including aggregating news such as coin price alerts, portfolio tracking, and a coin price check.
Together these features present an inclusive trading solution to empower traders taking advantage of the continually fluctuating cryptocurrency markets.
Furthermore, the platform does an efficient job of sourcing news stories, collecting news from the top 37 cryptocurrency news outlets, including CoinTelegram and others presenting an excellent solution for cryptocurrency traders.
Conclusion
At the end of the day, there are tons of great alternatives to CryptoPanic. Using powerful aggregation tools like ones discussed here will no doubt put you in a better position to identify trends and analyze the cryptocurrency market as a whole.
By breaking down the features of many of these we hope you feel better able to analyze which cryptocurrency news aggregation tool is the best fit for your needs and style of consuming content.