An overview of the best alternatives to Altpocket crypto tracker
Tracking your crypto portfolio and following the latest news isn't always easy. Investors can easily become overwhelmed by the fast-moving world of cryptocurrencies.
Since the early days of blockchain, enthusiasts have turned to aggregated sources of information to digest large amounts of information more easily.
One such example, Altpocket, has been the application of choice for thousands of cryptocurrency investors since its launch in the spring of 2017. Altpocket monitors all of the most recent updates in cryptocurrency prices and news and brings it in a convenient digital interface.
Designed to serve as a one-stop-shop for tracking, sharing and sourcing news, Altpocket is jam-packed with awesome features like these:
Auto-import of buy/sell orders.
Real-time profit/loss calculation
Super clean UI
Integration with Poloniex & Bittrex
100+ supported coins
Multiple APIs
Dark Theme
Ability to track mined cryptocurrencies and ICO investments
Altpocket takes it even further by adding a social component, an aspect most cryptocurrency portfolio tracking apps leave out.
Although Altpocket is extremely feature-rich, it isn't necessarily the best option for everyone. Here are some great Altpocket alternatives you should give a shot this year.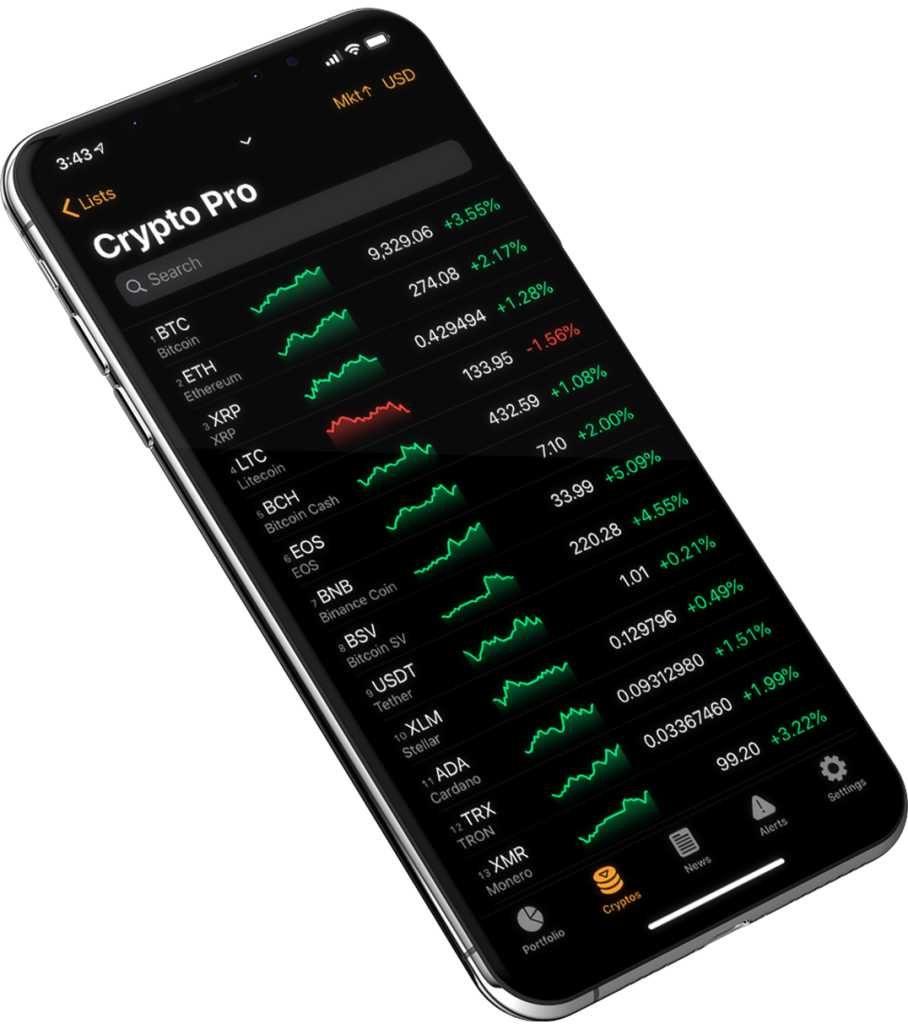 Crypto Pro goes above and beyond in keeping up with your portfolio in the most beautiful way possible. Exchange API integration makes logging every transaction super easy. Furthermore, Crypto Pro takes privacy and security to a whole new level. User information is never shared with any third parties. Crypto Pro is also one of the few crypto apps on the market available for Apple Watch.
Top Crypto Pro features include:
Tracking capability for over 5000+ assets
Privacy-focused technology (GDPR compliant)
Ability to import portfolios via wallet address or exchange API
Dark and light modes
Customized price alerts
Custom-tailored news section
FaceID, TouchID or password lock on iPhones
Price & Volume history graphs
Siri integration
Apple Watch app
Pricing
Crypto Pro is a freemium app. While many users will be satisfied with the free plan, a pro subscription plan is available as well.
The pro plan runs $5.99/month when paid monthly or $39.99 when purchased yearly.
Download Crypto Pro for iOS
Download Crypto Pro for Android
Blockfolio
Blockfolio has chosen a different approach to the portfolio tracking model. Blockfolio is purely mobile-based and doesn't include any social component.
With over 5 million users, Blockfolio is one of the most popular crypto mobile apps on the market.
Some of Blockfolio's key features:
Customizable home screen
Price data on 8,000+ coins and tokens
Support for over 100 fiat currencies
Chart the trend of your crypto investments over time with your personal portfolio graph
Customizable price alerts
Real-time candlestick charts and order book data from top exchanges
A news feed that pulls from CoinDesk, Cointelegraph, and more
Security and privacy features
Blockfolio also has the Signal feature which allows crypto executives to communicate more directly with interested investors.
Pricing
Blockfolio is 100% free.
Cons
Prices shown on the app might not be as reliable and can be different than other sources. It depends on which averages you are using.
If you own several cryptocurrencies, you might receive too many notifications which can be irritating.
Availability
Blockfolio is available only on Mobile. The mobile app is available for Android & IOS. Slack integration also available.
Blox
Co-Founded in Israel in 2016 as CoinDash, Blox is a cryptocurrency accounting, tracking, and management aggregate that positions itself as "Quickbooks for crypto". This system was designed to be automated, precise and efficient.
Blox has a few sets of features that set them apart from the average tracking portfolio app. Geared more for management for professionals and financial teams, this app throws a serious punch, especially for those looking for an app that allows for crypto accounting.
Auto track and sync your account to an exchange
Advances cryptocurrency accounting software
Real-time asset performance, balance, analytics & historical data.
Support available on mobile and web
Designed for "team" management, with a shareable workspace.
Pricing
Blox operates on a freemium model. A feature-limited option is available for free. The free plan includes up to $50,000 in Assets under Management, storage of up to 100 transactions, and support via email only.
The most expensive plan, which runs $249 per month, includes up to $60 Million in AUM, storage of 50,000 transactions, and up to 8 collaborators. The plan also includes a dedicated account manager.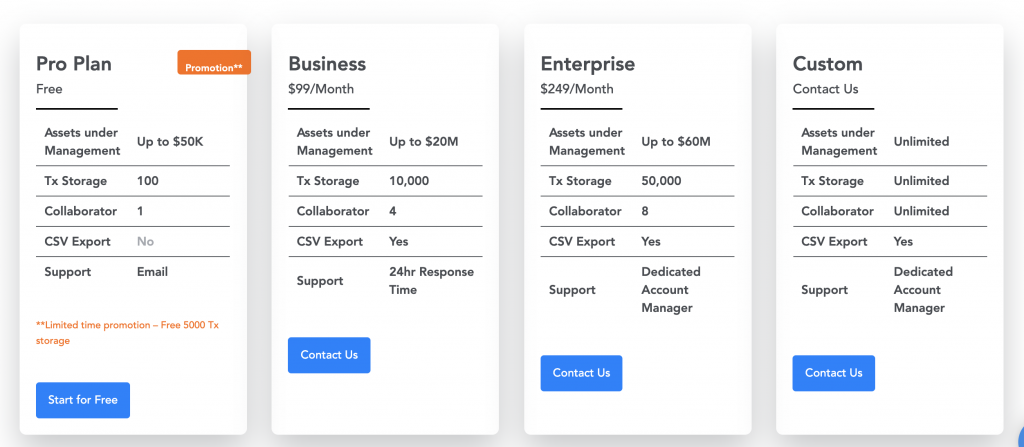 Availability
Blox is available on web and mobile.
CoinMarketCap
With over 37 million visitors per month, CoinMarketCap is one of the most highly visited sites in the world.
With CoinMarketCap, price tracking has always been the primary focus. Key features of the platform include:
Portfolio tracking & watchlist
Accurate data, alerts, conversions and charting tools
Follow up on cryptocurrency & blockchain news
Unfortunately, a common complaint of the CoinMarketCap app and website is the intrusive level of advertising.
Pricing
CoinMarketCap is a free platform.
Availability
Available on web and mobile for Android & IOS.
Voyager
Once called Ethos wallet, Voyager was designed as a universal wallet that allows you to store, track & monitor cryptocurrencies.
Key features of the Voyager app:
Ability to store cryptocurrencies on your smartphone
Ledger hardware wallet integration
Advanced portfolio tracking capability
State of the art security combined with simplicity
Coin profiles with technicals, market, performance, ratings & more
Support for nearly all major cryptocurrencies
Automatic airdrops
Asset allocation & key management
Mobile support
Social features allow users to interact with others
Pricing
Free
Availability
The Voyager app is currently only available on iOS.
CoinTracking
CoinTracking was designed to be a digital currency investment portfolio management platform. It enables users to keep track of all their digital assets as well as generate corresponding tax reports. An issue that has become increasingly important for bitcoin traders, as the IRS begins to turn their eyes to cryptocurrency-related activities.
CoinTrackers key features:
Ability to create tax forms
Compatible with all major cryptocurrencies, exchanges & wallets.
Historical price data of top cryptocurrencies
Pricing
Like many options on this list, Cointracking is a freemium app. The free version will allow tracking of up to 200 transactions and includes advertising. The "Pro" option, which costs $117 per year allows tracking of 3,500 transactions. The most expensive option, the "Unlimited" plan allows users to track an unlimited number of transactions, has no advertising, and offers tax & capital gains reporting for 50 wallets.
Free to $76.00/ Annual Membership. Lifetime Licenses also available.
Availability
Cointracking is available for iOS and Android devices.